6000 square meters, 10km of seams, 2,5 kilometers of zip, 8 billions of pixels, a world record =
Photos - Joel Philippon - Reuters/Robert Pratta
- - - - - - - - - - - - - - - - - - - - - - - - - - - - - - - -
Last march, I was commissioned with 3 other graphists/matte painters by
François Abelanet
- a talented artist known for producing amazing street art - to make giants anamorphosis.
François Abelanet
still has great performance to his credit. I invite you to check his
website
or this link :
WHAT IS AN ANAMORPHOSIS ?
An anamorphosis, based on Wikipedia, is "a distorted projection or perspective requiring the viewer to use special devices or occupy a specific vantage point to reconstitute the image".
The illusion in our case is revealed when you're on a certain angle on stairs.
Each graphist had to make one anamorphosis. There was a very big one and 3 "small" to do. The biggest is more than 4,000 square meters (43,055.64 sq ft)
and the 4 together are 
6000 square meters
 (about 26 tennis courts !!). With that size, the biggest anamorphosis of the set became
on 7th July 2013 the biggest anamorphosis in the world
.
The all event append during the 6th and 7th on July in Lyon, France, on the Place Bellecour (mainplace of the town).
I did one of the 3 small anamorphosis, the one with the bowls. The idea was to fake bowls on the floor, while a truck on the side is discharging more.
We did with François several attempts in 3D to find the best amount of bowls and positioning.
The next step was to put in every bowl an image that fits with Renault Trucks values, and with the place of the event (some places around Lyon like Confluence). I was asked to fill bowls with construction images, roads, highways etc...
I did two renders : one with full bowls, one with only glass reflective bowls, that I mixed in Photoshop then. We shot the Place Bellecour in 360°, so that I could make a reflective HDR to produce the reflexion of the statue of Louis XIV in it (this statue is in the middle of the place), to make bowls more realistics.
A first attempt in high scale was made to see if everything was ok, and if the illusion was working.
Here are some shots taken by François Abelanet.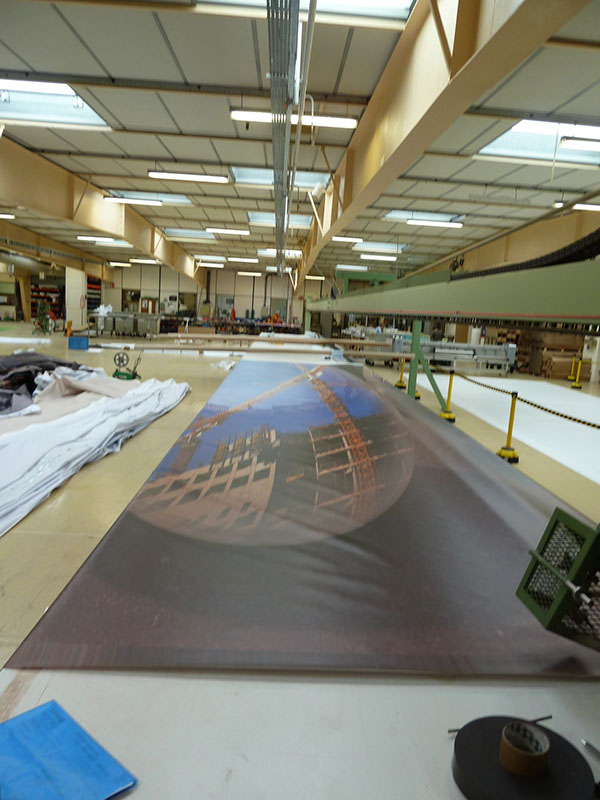 Everything is ok. Ready for the good real size...
On the right side of the image, we have the truck with its container.
The truck's container is also an anamorphosis. From my render, another graphist unwrapped a 3D model of the container, and mapped the shot on it, to produce the illusion.
We had either to considerate the luminescence of the sun on the images. So we had to darken them, so we can even see the images when it will be midday.
THE EVENT - GUINNESS BOOK WORLD RECORD - LYON 6th-7th July 2013