Special Volvo animal edition at the fashion show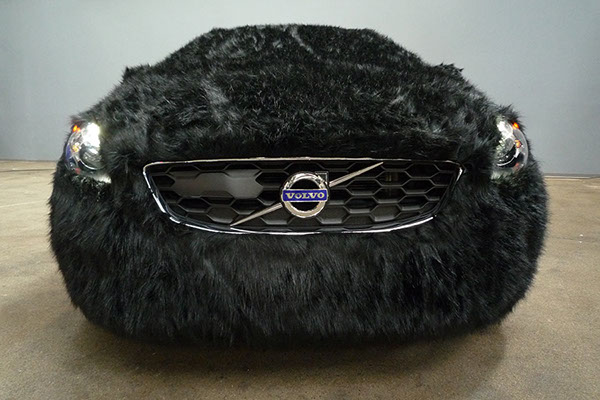 The Hungarian 'Gombold újra!' project, which was first organized in 2011 is integrating a fashion competition, fashion show and exhibition series. The aim of the initiative is to give the opportunity to the most talented designers from the Central European region to showcase their work on a platform to which international buyers and managers of concept stores and showrooms are invited. The organizers goal is to connect them to the mainstream fashion world by giving them the chance to have their collections purchased around the world.
The most popular event of this project is the final of the Gombold újra! Central Europe competition. During the fashion show more than 3000 spectators celebrated the designers.
Volvo Car Hungary proudly sponsored this event, and exhibited a special model there. The visitors  could read the following text next to its cage:
"The perfect travel companion which belongs to the family of the Volvo V40 and V40 Cross Country has got a rugged exterior appearance and overcoming all obstacles. This impression is strengthened in us through the protective body panels, larger wheels and tires and a raised ride height. This animal will not be deterred if you run out of asphalt underneath. Thanks to the good adaptability, withstand a variety of weather and road conditions, and can do up to 1,500 km without food intake.
Place of origin: Sweden
Body size: 4,37 m x 2,041 m x 1,458 m
Species: Volvo
Distribution and habitat: can be found on every continent in the world"
In closer learning about the Volvo V40 Cross Country we can characterize it immediately as muscular, rugged build and even more in extreme conditions as a beast. The unique cage is trying to strengthen this association which was made of reminiscent of a glass, silicone cord ​, it's  transparent wall is holding the "animal" but at same time giving it a majestic appearance. The car dressed in black fake fur  attracts to stroke it  and can be easily associated  to the world of women's coats, but the effect is strongly masculine. Almost all vehicles carry a feral, animalistic notes. In our case, with amplifying  these notes a bearish predator can come to our mind. Which is at once majestic, menacing yet lovable and protective as well.
Photos: Péter Andrasovszky