A series of vector illustrations for the
Goiconda Project
, which pays tribute to the incredible smile of Mona Lisa but also pays homage to 3 iconic American Horrors- Carrie, Jason Voorhees ( Friday the 13th), and Chatterbox
(Hellraiser).
All done in Native Vector- No embedded rasters, no gradient mesh, no filters nor plugins.
Enjoy~

En Espanol:
Una serie de ilustraciones vectoriales para el Proyecto Goiconda, que rinde homenaje a la increíble sonrisa de la Mona Lisa, pero también rinde homenaje a 3 icónica americana Horrors-Carrie, Jason Voorhees (Viernes 13) y Chatterbox (Hellraiser).
Todo hecho en los nativos Vector-No hay tramas incrustados, sin gradiente de malla, sin filtros ni plugins.
Disfruten ~
UPDATE:
THE GIOCONDA PROJECT Exhibition
at the
W3 Gallery- London, UK
Febuary 25 to March 6th
- CONGRATULATIONS to the
Gioconda Project
and to the 181 artists who have contributed.
For those who can't make out to the show, here's a video teaser. Cheers and enjoy~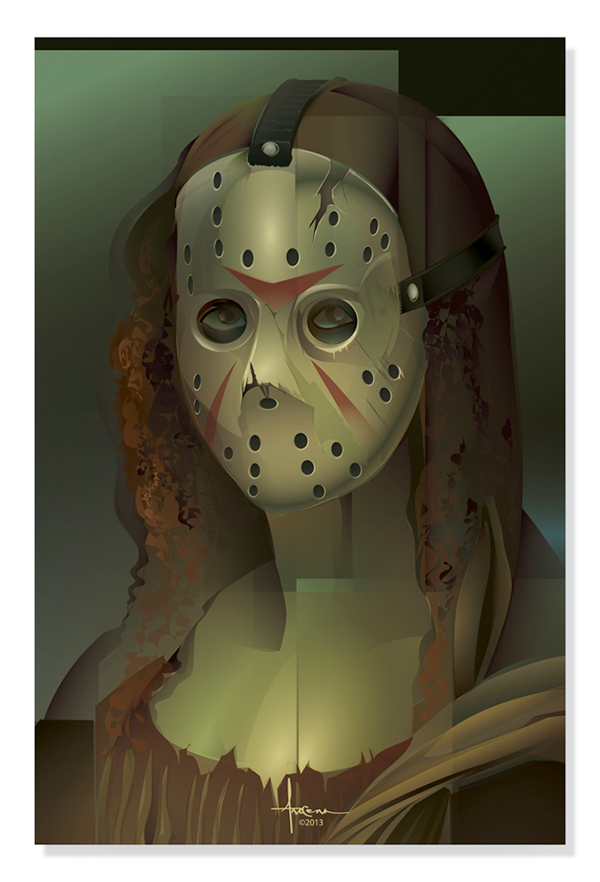 Chatterbox -  Vector Outlines
Chatterbox - Face Outline
Chatterbox- Full Face Vector
Below: Individual 17" w x 24" h limited edition Giclee prints. Hand signed and Numbered.
edition size: 50
Below- Limited edition 17" H x 28" wide all in one
Cheers and good luck in all that you do~