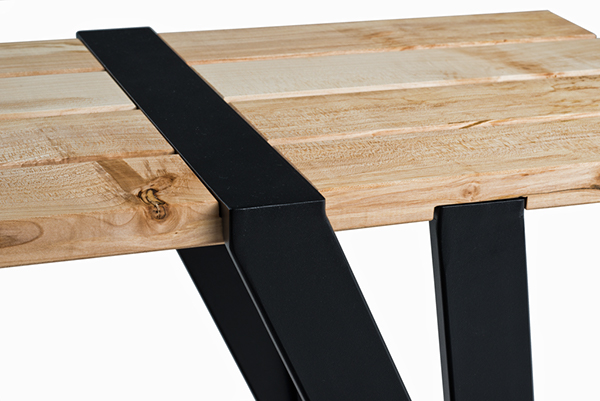 The 'Klemmbrett Bank' is based on the clip principle.
This three-part piece of furniture convinces through its simplicity and elegance. 
The frames, manufactured from steel and colour powder-coated, encompass the wooden plates, thereby literally clipping them in. 
The design is as simple as it is good: The metal grips into grooves on the top and bottom of the seat section and is secured there. This connection ultimately ensures that the bank can be constructed
in next to no time and without using any tools. Despite the unusual combination of materials, the bench conveys a surprising harmony of the elements used.
-
Das Prinzip des Klemmens ist die Grundlage der Klemmbrett-Bank.
Dieses dreiteilige Möbel überzeugt durch Einfachheit und Eleganz.
Die Gestelle, gefertigt aus Stahl und farbig gepulvert, umfassen die hölzernen Platten und klemmen sie dadurch wortwörtlichein. 
Die Konstruktion ist so simpel wie gut: das Metall greift in Nuten auf Ober- und Unterseite der Sitzplatten und wird dort fixiert. Diese Verbindung sorgt schließlich dafür, dass die Bank in kürzester Zeit und ganz ohne Werkzeug aufgebaut ist.
Trotz des ungewöhnlichen Materialmixes, vermittelt die Bank eine überraschende Einheit der verwendeten Elemente.