Project:

In-Store Illustrations for Ladybag Philippines
Client:

Primer Group of Companies 
Ladybag Philippines is a new concept store by Primer Group of Companies that carries various ladies' bags ('affordable luxury' brands) and accessories. Primer Group is my first ever local client since I began my freelance career in 2012 and I was very excited to take part of the project even though it was also a first fashion illustration project.
The brief was to create female illustrations wearing 5 different types of bags (tote, satchel, messenger bag, hobo & shoulder bag). It was a challenge since most of my projects are usually floral patterns and incorporating illustrations into typefaces. But, it ended up great. I was thankful for Primer Group of Companies for trusting me the visuals for their new store.
The illustrations were first displayed on their new store in Metro Manila.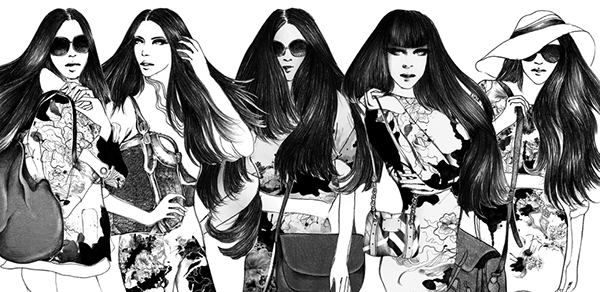 Approved Final Illustrations in Black & White
Illustrations used as In-Store Posters 
Glorietta 5, Level 2 Branch
Metro Manila, Philippines
Illustrations by Daryl Feril
2013 ©Primer Group of Companies