IT IS OUR JOB TO DEVELOP IDENTITIES FOR COMPANIES, BRANDS OR PEOPLE. TO VISUALISE, TO COMMUNICATE THEM THROUGH GRAPHIC DESIGN, PRODUCT DESIGN, INTERIOR DESIGN OR MOVIES.
WHEN WE WERE INVITED TO DESIGN THE "FREIRAUM SEITE" IN THE AUSTRIAN NEWSPAPER DIE PRESSE, WE INSTANTLY KNEW THAT WE WOULD LIKE TO DO A PROJECT ABOUT IDENTITY.
NEWSPAPERS AND MAGAZINES OFFER NUMEROUS OPPORTUNITIES TO COMMUNICATE OR IMPLEMENT INDENTITIES.
THE QUESTION WAS: HOW DO NEWSPAPERS COMMUNICATE IDENTITIES?
IN OUR FIELD OF WORK, WE UNDERSTAND INDENTITY IN TERMS OF PERCEPTION. PEOPLE PERCEIVE IDENTITY THROUGH THREE MAIN FACTORS:
B: BEHAVIOUR: HOW DO WE BEHAVE? WHAT DO WE DO?
C: COMMUNICATION: WHAT DO I SAY? HOW DO I SAY IT?
D: DESIGN: WHAT DO I LOOK LIKE?
IN PARTICULAR NEWSPAPER INTERVIEWS FOCUS ON THESE THREE FACTORS:WHAT DO I LOOK LIKE: A PHOTO. HOW DO I BEHAVE OR WHAT DO I COMMUNICATE: THE ANSWERS.
WE DECIDED TO USE AN INTERVIEW AS A TOOL TO PRESENT AN IDENTITY.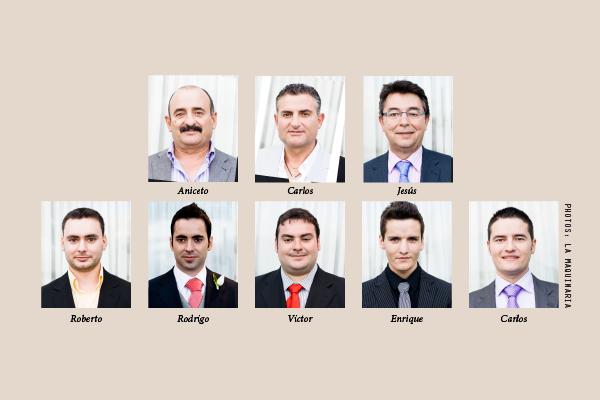 THE IDEA WAS TO PRESENT AN IDENTITY THAT ALREADY EXISTED BUT DID NOT HAVE A PHYSICAL FORM YET.

A COLLECTIVE IDENTITY WORKS EXACTLY LIKE AN INDIVIDUAL ONE,
 IN MANY WAYS. IT JUST DOES NOT HAVE AN IMAGE OR A PHYSICAL FORM.
AN IDENTITY IS SOMETHING COMPLEX, DEPENDING ENTIRELY ON THE PERCEPTION OF EVERY SINGLE PERSON.

A FAMILY IS A PERFECT EXAMPLE TO VISUALIZE A COLLECTIVE IDENTITY,
AS ITS LIMITS ARE DEFINED VERY CLEARLY.

IDENTITY HAS A GREAT IMPORTANCE TO THE FAMILY OF RODRIGO'S MOTHER.
 SINCE HE WAS A CHILD, RODRIGO ALWAYS HEARD
WHAT A GUTIERREZ DOES OR WHO IS "MORE A GUTIÉRREZ" AND WHO IS "LESS A GUTIÉRREZ".
AT OUR WEDDING WE WANTED TO HAVE A PORTRAIT TAKEN OF EVERY GUEST.

OUR LUCK: ALL MALE MEMBERS OF THE GUTIÉRREZ FAMILY
WERE PRESENT AND SO WE GOT A PORTRAIT OF EVERY SINGLE ONE.
OUR LOSS: NOT ALL GUTIERREZ WOMEN COULD MAKE IT.
UNFORTUNATELY, RODRIGO'S GRANDFAHTER WAS NO LONGER WITH US AT THE TIME OF THE WEDDING.
HIS IDENTITY IS THE CORE OF THE IDENTITY OF ALL GUTIÉRREZ MEN.

BUT IT IS NOT JUST THE IDENTITY OF THE GRANDFATHER:
THE IDENTITY SLIGHTLY CHANGED WITH EVERY GENERATION.
WE DID NOT WANT TO PRESENT THE GRANDFATHER'S IDENTITY, BUT THE IDENTITY OF AN ENTIRE FAMILY.
AS A FIRST STEP WE DID A MORPHING OF ALL PICTURES OF THE MALE GUTIÉRREZ
FAMILY MEMBERS TO GET A PHOTO.

THIS PHOTO ONLY REPRESENTS AN AVERAGE OF ALL PHYSICAL FEATURES.
IT TELLS A STORY ABOUT THE ACTUAL IDENTITY AND THE WAY OTHER PEOPLE PERCEIVE "THE GUTIÉRREZ".
WE WANTED TO VISUALIZE THE IDEAL AND DESIRED IDENTITY AS WE DO IT IN OUR WORK WITH THE CLIENTS.
THE PHYSICAL IDENTITY A FAMILY ACTUALLY HAS, AND THE WAY OTHER PEOPLE PERCEIVE IT CAN DIFFER A GREAT DEAL.
IN THE CASE OF A SINGLE PERSON, IDENTITY IS MAINLY MADE UP OF CHARACTER FEATURES AND SIGNIFICANT PHYSICAL FEATURES.
WE DID NOT WANT TO DO A COLLAGE THAT LOOKS FOR SIMILARITIES WITH RODRIGO'S GRANDFATHER.
WE WERE SEARCHING FOR A CERTAIN COMMON SENSATION, A FEELING. THROUGH AN ANALYSIS AND A BRIEFING WITH THE ENTIRE FAMILY WE DETECTED THE LOWEST COMMON DENOMINATOR OF THE GUTIÉRREZ IDENTITY.

WITH OUR RESULTS FROM THE ANALYSIS WE DEVELOPED THE IDENTITY.
THE DATA ABOUT PHYSICAL FEATURES WERE IMPLEMENTED IN THE PHOTO.
WITH THE RESULTS CONCERNING THE CHARACTER FEATURES WE DEVELOPED THE INTERVIEW.
TO GAIN MORE AUTHENTICITY, WE CREATED THE INTERVIEW IN SPANISH AND WE LET IT BE PROFESSIONALLY TRANSLATED TO GERMAN AFTERWARDS.
(BY ANGELA PENKNER)
EATS BASICALLY EVERYTHING
THICK EYEBROWS
BIG, DARK, EXPRESSIVE EYES
DOES NO LIKE FRUIT
FULL AND DEFINED LIPS
LIKES TO CHAT AND GO OUT
PROTRUDING EARS
LIKES TO SLEEP
DARK-SKINNED
SKILLED CRAFTSMEN
SPORTY
SOUL OF AN ARTIST
SMALL
FAN OF RAPHAEL (LEGENDARY SPANISH MUSICIAN)
BIG PENIS
MONEY AND SUCCESS ARE NOT IMPORTANT TO HIM
HE LOVES TO LIVE 
ADAPTS EASILY
OPTIMIST
POSITIVE
EMPATHETIC AND LOYAL
LIKES TO CUDDLE
CONFORMIST
LIKES TO MAKE OTHERS LAUGH
DOES NOT LIKE CONFLICT
THE PROJECT WAS PUBLISHED ON 05/05/2014 ON DIE PRESSE
ALL FAMILY MEMBERS OF THE GUTIERREZ FAMILY WERE ENTHUSIASTIC ABOUT IT.
THEY COULD RECOGNIZE THE IDENTITY OF THE FAMILY.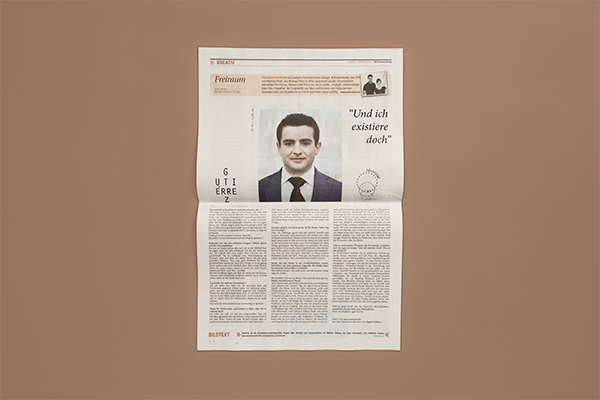 WE ALSO DESIGNED AND PRINTED A POSTER IN ORDER TO EXPLAIN THE WHOLE
PROCESS