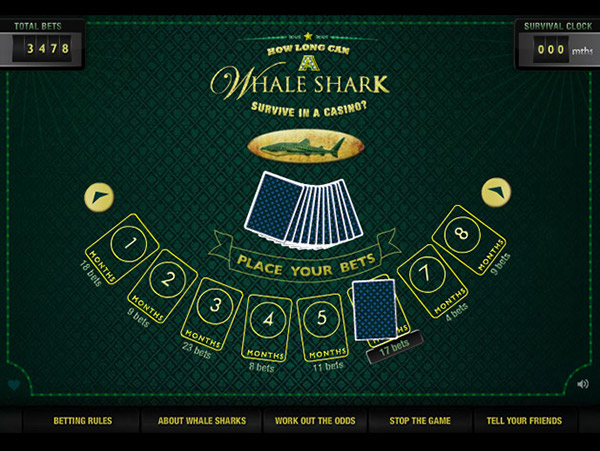 Whale shark Gamble


Would you gamble with a whale shark's life?
Resorts World, an integrated resort developer, was planning to acquire a whale shark for public display at its casino complex, and the centrepiece in a man-made aquarium. Being the world's largest fish, whale sharks can grow to twice the length of a tour bus and do not belong in a man-made tank, no matter the size.
We had to raise public awareness of the issue and get people to care enough to sign a petition before it was too late. In conjunction with Sea Shepherd, we used the inescapable irony of putting a whale shark in a casino and created a Facebook app for people to bet on the shark's survival. The prize for the person whose prediction came closest was to be a desktop memento of a whale shark in a glass coffin.
Supported by offline print, posters and postcards, as well as banners online at various NGO websites, people were directed to the FB app. The CEO of Resorts World, the Minister for National Development and the CEO of the Singapore Tourism Board were bombarded with petitions and within two weeks, Resorts World called for a meeting with Sea Shepherd representatives to announce that they would be submitting new plans for the aquarium that didn't involve a whale shark. We would like to think that our efforts helped save a whale shark from captivity.
Cannes Cyber Lions 2009: Shortlist