How to Improve the Dynamics?
Founded in 1849,
Sociedade Harmonia Eborense
, is a non profitable Cultural Association, located in the main square of Évora, Portugal. 
The Association has evolved through the years by the love and sweat of their associates, proving not to be an easy task.
When I started the collaboration with S.H.E. there were several administration and management issues going on. 
Economically the Association was not sustainable, maybe due to a general lack of interest from the associates at the time.
______________________________________________
"Venham daí, a S.H.E. é já ali!"
Come on, S.H.E. it´s over there!
______________________________________________
As a team, the amount and variety of work was distributed among the members in order to fulfill all the needs.
As a Communication Designer, my role was developing the communication digital strategy, creating assets and promote, on a daily basis, events on Social Networks. 
With a strong Copywrite component - Music Videos, Posters and tagged Photos - were shared with our followers. Focusing not only events, but also associates and ambiance of the house.
All this content worked like digital teasers and brought curiosity about what was happening inside the association. 
Associative spirit started to grew, which increased the number of collaborations and more people joined S.H.E.
For the music graphic support, I worked close to João Modas, responsible for the concerts agenda.
Together with the musicians involved, each poster was developed in a unique way, and designed according to the band or event in question.
Please click on the image to enlarge and for more information, click on the link under the poster and hear how the bands sound like.
______________________________________________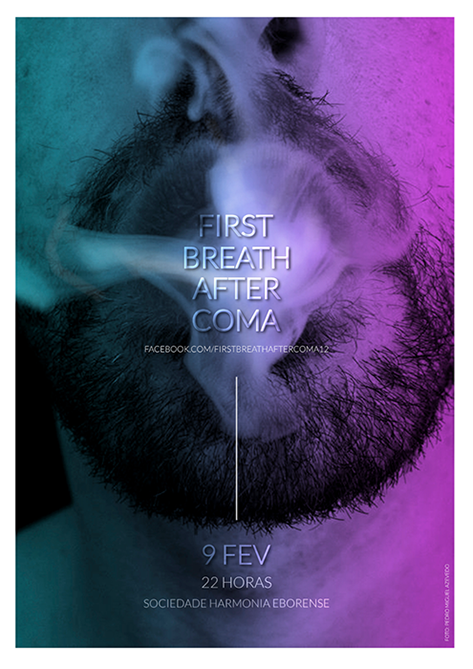 ______________________________________________
I joined the management crew between 2011 and 2013, and all the work developed was for free and for the benefit of the Association. S.H.E. has always been a special place for me since I entered there, for the first time, in 1998.
As a team, we were able to create a turning point in the history of the Association, so credits must also go to Rui Cancela, João Modas, José Manuel Martins, Paulo André, João Galhardo, Candida Vieira, João Carapinha, Emanuel Marreiros and also to all the volunteers, helpers and friends that came around.
Nowadays, with a different management team, S.H.E. is still rocking with daily events that include music concerts, movie projections, and exhibitions.