Этот календарь, напечатанный на полупрозрачной кальке, как будто растворяется во времени, тает по мере того, как движется год. Поэтому он называется «Тающий календарь».

/

This calendar printed on semi-transparent tracing paper seem gradually to dissolve, vanish as the year passes. That is why we call it Evanescent Calendar.
На каждом листе напечатан численник только одного месяца. Верхний лист — текущий месяц.
Он четкий и хорошо читается. Следующие за ним месяцы скрываются под все утолщающимся
и становящимся все менее прозрачным слоем кальки. Те, что ближе к текущему месяцу видны более явно, те, что дальше — приглушены, а самые дальние почти теряются / Every sheet bears printed numbers for one month. The upper sheet shows the current month. It is clear and totally legible. The following months are concealed under a layer of tracing paper that gradually becomes denser and less transparent. The months immediately following the current one are more visible, the following seem muted, the last ones nearly vanish from sight.
Когда лист календаря с прошедшим месяцем сорван, оказывается, что следующий месяц приблизился к нам, стал ясно видимым, так как он уже не закрыт слоем кальки с предыдущим месяцем

. / When you remove the current month sheet you discover that the following one is right here, totally visible
as now it is not screened with the layer of the previous month tracing paper.
Месяцы, следующие за текущим, проявляются все больше по мере того, как листы, лежавшие
над ними, исчезают. / While the months following the current one are being gradually stripped of the covering sheets, they show through more vividly.
Календарь становится тоньше, а численники яснее

. / The calendar grows thinner, the numbers clearer.
Так, лист за листом, тают месяцы года.

/ So, one by one, months pass.
Август… Можно листать быстрее ) …

/ August… You may scroll faster )…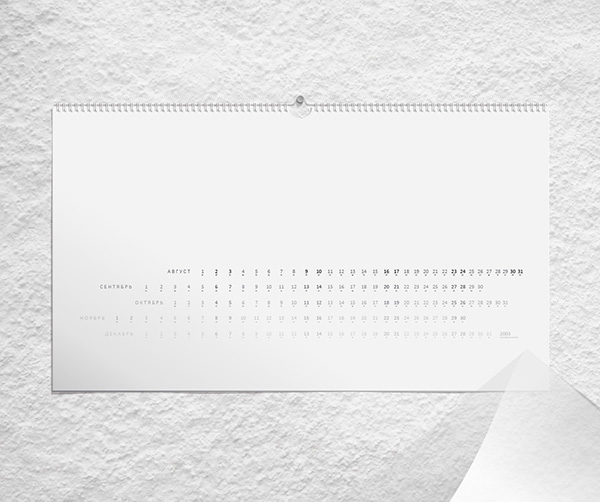 Ноябрь, декабрь…. и…

/ November, December… and…
Это не так грустно, как может показаться.

/ It is not as sad as you might think.
Белый чистый лист — пригодится в будущем.

/ Here is the white blank page — might be good for the future use