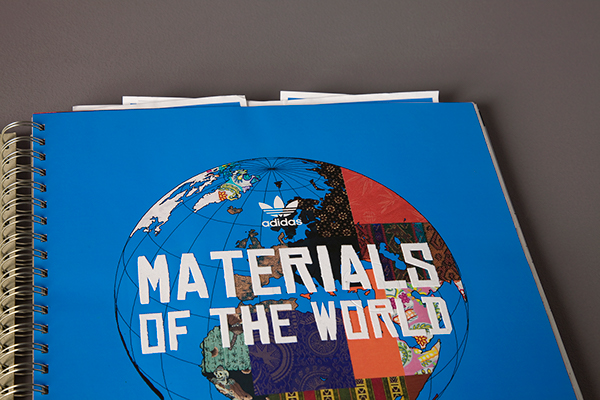 Information on the client
Adidas is among the world's leading sports product and lifestyle companies. The Adidas Originals brand is a pillar of the lifestyle sector; under its trefoil logo, Adidas Originals presents abiding classics in a modern context.
"Materials of the World"
is a limited collection by Adidas Originals featuring materials that are characteristic of specific global regions. Designliga developed an order book for an exclusive presentation of the collection to selected buyers.
The order book was inspired by the vitality and directness of sketchbooks. It traces the history of ideas of an imaginary fashion designer travelling the world to develop his collections. He captures sketches, impressions and ideas in his notebook, ordered into categories for countries and materials. Product information, article numbers and fabric samples were stuck in and attached, emphasizing the informal sketchbook style. The book was created entirely by hand in a limited edition of five. In a follow-up project, the order book was adapted as a product overview and was enclosed in the collection shoeboxes.