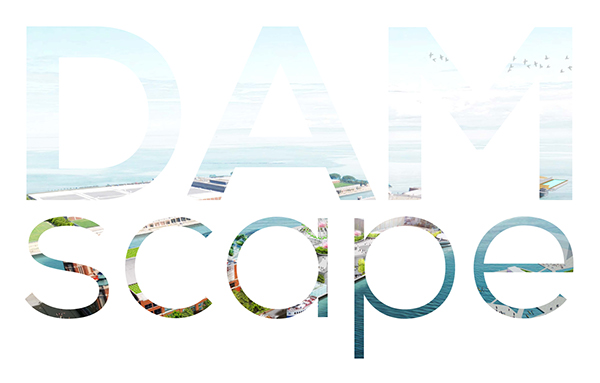 Purple Loosestrife Research Center + Community Urban Agriculture Scape
S I T E     I N F O R M A T I O N
Chicago, Illinois 
     Located Across From Navy Pier on Lake Michigan
S T U D I O   P R O P O S A L     +      C  O N C E P T     
15,000 sq ft Research Center
     45,000 sq ft Community Space
This

s
tudio addresses the issue of contemporary public space and public natural resources
through the twinning of infrastructure and a complex community-based program on a water-based
site. It assumes that opportunities for design invention emerge through the solicitation of varied
constraints: in this case, the interdependent (natural and artificial) systems that characterize the
Midwestern metropolitan context, a challenging mix of public/private program requirements, and a
diverse (and often conflicting) range of constituencies and special interest groups. As a synthetic
design and research problem, the direction of the studio focused on the translation and
architectural materialization of specific ecological and cultural forces with technical infrastructural
demands. Given the scope and location of the project, the studio engaged the possibilities of
moving between diverse scales of urban planning and architectural design.
      The Purple Loosestrife is an evasive species that has migrated to about every state across the United States. The plant is harmful to foreign habitats as its roots spread vastly across the ground and consume existing plants.  The Purple Loosestrife spreads via air so in order to minimize its spread over other environments it needs to be contained.  These conditions impacted the design of the research center and the island that it sits on.  The plant is studied in the lower floor of the facility and exhibited to the public via the architectural glass box (the second floor).  Since the research center is designed around studying a plant, the island that the research center sits on was covered with edible plants that are cultivated for the public.  The logic is that creating a landscape of edible plants is ironically evasive to Lake Michigan but done so in a more contained format. This interest brings public activity to the island and activates the island as a large garden.  The plants grown can then be sold as a way of financial profit.  
D E S I G N     E L E M E N T S
Public Circulation (top)
     Program Uses (middle)
     Community Urban Agriculture Landscape (bottom)
R E N D E R I N G S
 Kayak Approach (top)
     Community Urban Agriculture Landscape (top middle)
     Cafe/Computer Bar (bottom middle)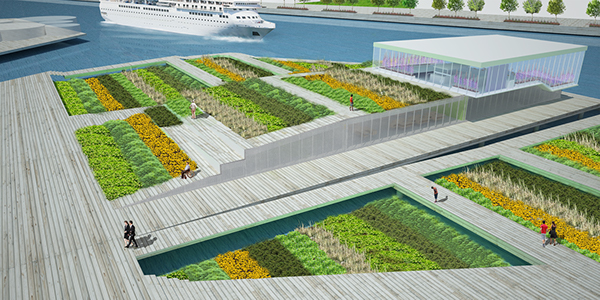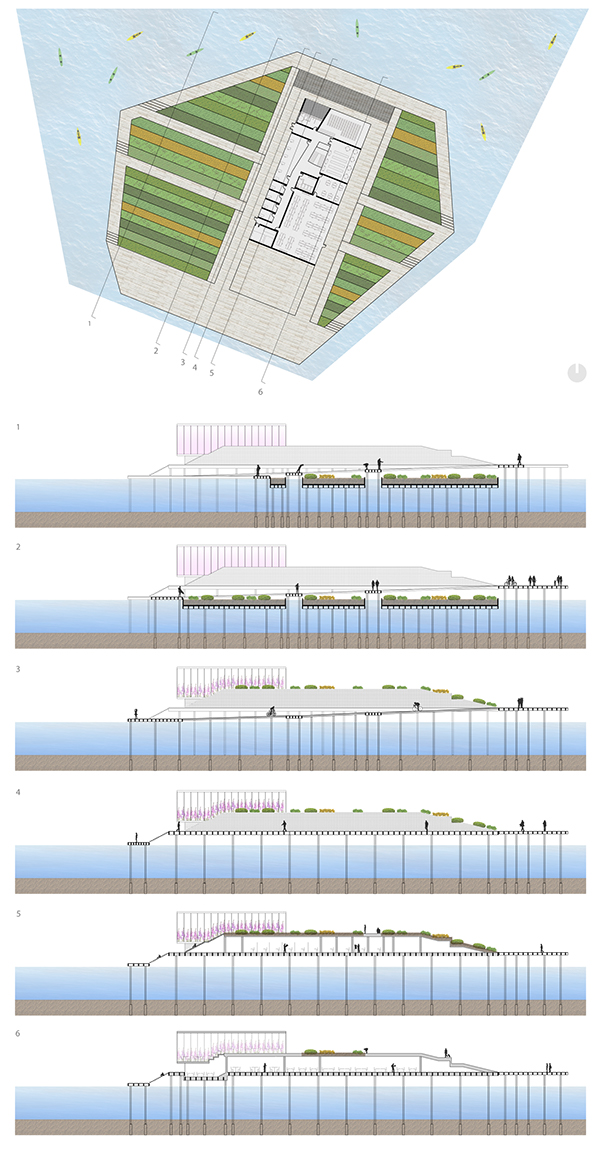 M O D E L S
     Northwest Aerial (top)
     Northeast Aerial (bottom)