Adobe's Pro Bono Initiative, XD and the Children's Creativity Museum
Did we really make that?
A scant few months ago, on our first site visit to the Children's Creativity Museum (CCM), the core pro bono volunteers from XD stared at a carcass of a space that was to house the exhibit we'd been tasked with building. There were very few parameters, basically a blank canvas. A tad overwhelming. Fast forward to just a few days ago to the exhibit's launch and I'm watching both youngsters and adults alike interacting, playing and genuinely enjoying the experience that was crafted by the team here in XD SF. Amazing.
Seemingly Simple but not That Simple
The charter from CCM initially was to create a safe and inviting space where its 2-5 year old visitors could engage in activities that support developmental growth while being safe and durable. Ok, some snuggies, beanbags and foam blocks would be the easy way to go. But hey we are Adobe – Adobe XD no less, so that was not an option. After a few focused brainstorming sessions and tons of ideas, we hit on what we ended up with today: an LED light array of big 8-bit style pixels running multiple hand crafted applications that would receive input from a pressure sensitive floor and touch enabled events accompanied by sound triggers… Oh, and we'd build it primarily ourselves. Could we really do this though?
Design, Build and Install
We hit on a complex concept and knew that we had to crafty more than anything to pull this off relying on everyone in the group equally to dig deep and rise to the occasion. In the mix of XD volunteers, our cumulative skill set enabled us to design, engineer, prototype, weld, solder, cut, graft, hack, crate, troubleshoot and install all of the various components that were a part of the final exhibit. (Okay -- we didn't do the CNC woodwork -- we used Hero Design as our fabricator). No small feat given the complexity of it all. And it works!
The opportunity to be a part of such a dynamic team and to make a difference in our local community has provided me much inspiration, gratitude and satisfaction along the way. My hope is that the completion of the museum exhibit can bring more attention to the Adobe Pro Bono Initiative and help pave the way for similar scale projects for XD contribute to in the future.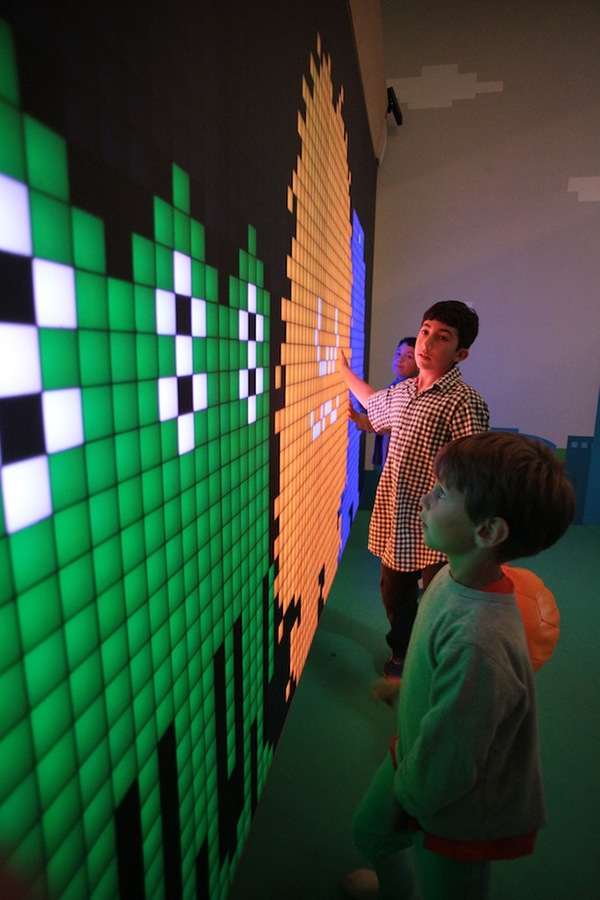 The Floor
- As part of our vision for the Children's Creativity Museum installation, we wanted to build a fully responsive pressure-sensitive floor. Our hope was that this floor, which we called the CCM ActiveFloor, would add an element of interactivity beyond multi-touch that would encourage kids playing in the exhibit to become more active and engaged. We wanted kids to move around - to run, jump, spin and play. It was an ambitious task for a bunch of software designers and developers, but judging from the screams and smiles of kids in the museum exhibit on opening day, we'd say it was a success!
Last summer a small group of XD developers and designers got together to start an Adobe Pro Bono project with the Children's Creativity Museum (CCM) in San Francisco. The museum's goal was to partner with Adobe to conceptualize, design and build an exhibit for children five years and younger. CCM wanted a safe space for their smallest visitors that would allow the little ones to engage in activities that highlighted the different stages of their developmental growth. Obviously, since they were collaborating with Adobe XD, they also wanted the exhibit to be focused on technology as well as the children's creativity. The exhibit needed to be a creativity and sensory exploration studio that used technology the little ones would not find in their homes. In other words, the experience would be nothing like using a computer, tablet, gaming device or TV.
We started with talks with CCM…
After building this prototype, the team created a program that would allow us to simulate the wall experience on a large screen TV. Since we drew inspiration from the Critters, Paul Dorian and Ming Cho are creating an app that also involves the Critters. When a child moves across the floor, the Critters will move too.
We are also designing and building other programs that carry the concept of physics and motion.