Enhancing the paper notebook experience with modular folios, tagged digital content, and end- of-life solutions. 
Team Members:

 William Bottini, Ian Leighton, Betsy McColm, John Niehues, and Darren Tam
Advised By:

Alice Agogino and Lora Oehlberg, UC Berkeley
About the Project:


DesigNote is a project that I worked on while taking the course ME 110: Introduction to Product Design in Spring 2010.  ME 110 is a semester long project-based course which introduces students to the human-centered design process. 
DesigNote began with the observation that designers living in a digital age continue to regularly use analog notebooks despite the seeming incompatibility of these two worlds. The tactile experience that a simple notebook provides is still valued just as much as, if not more than, the endless resources of the digital world. Finding a way— any way — to bridge the gap between these two separate domains drove our product research and development. We felt that this approach to a next-generation design tool would aid in collaboration, ease of use, and enjoyment for designers of all kinds.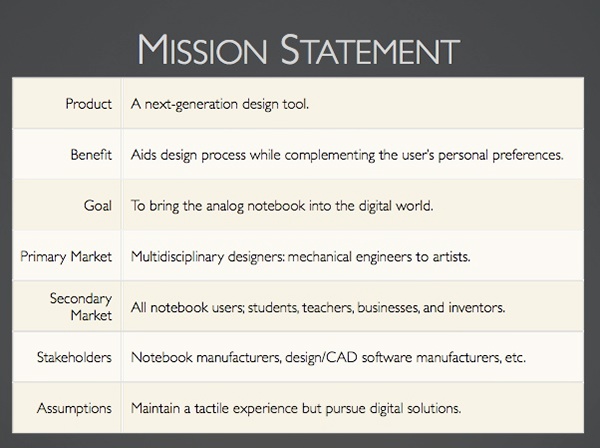 Customer & User Needs:
We began our investigation into this project by interviewing 20+ users of notebooks from a variety of disciplines ranging from artist to architect to engineer.  We collectively reviewed all of the interviews and extracted user needs phrased as "The Designer needs to ..." in order to maintain a focus on the user. We then attempted a few different methods to organize the user needs, eventually finding the Common, Context, Activity, Qualifier framework to be the most beneficial guide.  We prioritized the needs by the number of users who mentioned them and voted on those we felt we could address in our design.    
Concept Generation:
Using our prioritized user needs, we individually and collectively brainstormed concepts which we documented on post-it notes. We then researched relevant products and benchmarked them against our users' needs.  Products and brands like Evernote, Microsoft Tag, Anoto pens, and Moleskine were particularly enlightening to consider for both their successes and shortcomings. 
Concept Selection:
We initially used a concept selection matrix that  listed each need on the y-axis and our concepts and the benchmark (plain paper design journal) on the x-axis.  We rated each concept for how it addressed each need in comparison to the benchmark product. We found that it was difficult to compare all of our concepts as concepts like scanning could be rated as both positively and negatively in certain categories and had 
to be broken up into multiple concepts because of the wide range of product executions.  As a result, we categorized the concepts into analog, hybrid, and digital solutions. We then relied on user feedback from the midterm tradeshow to help us chose the solution space. We prototyped our best concepts in each domain; a modified accordion-style notebook represented analog solutions, a computer complement to paper notebooks represented hybrid solutions, and a purely digital notebook concept represented digital solutions. Users were very keen to have the tangible notebook experience but were drawn to the digital experience. After some weeks of discussion, we realized that our final prototype needed to span across all domains. 
Prototyping:
We constructed our first prototypes for the midterm tradeshow so that we could decide between our analog, digital and hybrid solution spaces.  We used a variety of methods of prototyping including cardboard construction and "Wizard of Oz" demonstration.

The 

analog prototype

was a modular accordion-style notebook that could open both ways. (pictured left)
Our

hybrid prototype

was a "Wizard of Oz" PowerPoint demo that would scan the date on your journal through a web cam and display related digital content such as pictures. (pictured center)
Our

digital prototype

was a "Wizard of Oz" PowerPoint demo of a computer program with tag, search and interactive capabilities. (pictured right)
Our Final Concept:
Our final concept is a suite of three products.



Analog Features:
A modular accordion-style notebook that could open both ways. It has removable binding which allows sections of the notebook to be inserted or re-arranged.



Digital Features:
While not entirely dependent on one another, this suite of products works best as a whole. The DesigNotebook has removable signatures that can be easily scanned (especially through a feed scanner) and its expandable design allows multiple sections to be viewed at once allowing users to quickly identify much of their tagged digital content. We recognize that an important need of our users is to each design in their own unique way. Therefore, while our suite of products work best when used together, each is relatively independent.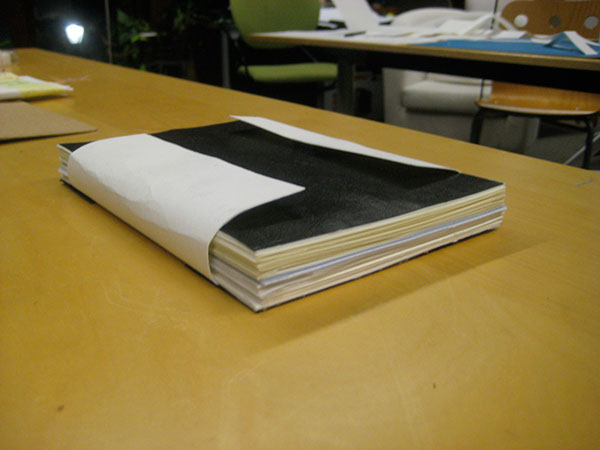 Design for the Enviro
nme
nt:
Very few users mentioned sustainability as a factor when purchasing their journal. However, we were have 
identified six principles of sustainable design that our product addresses. , as identified in Lunar Design's
The Designer's Guide to Sustainability.
View a full version
here
.
Modular Design: Modular designs are more easily repaired and recycled. One of the main features of our design is the ability to alter the arrangement and type of paper included in the notebook. Because of its unique binding, our design journal can be expanded however and wherever the user chooses. 
Less Complex: Simple, elegant designs have less impact. We kept our design as simple as possible to compete with Moleskine notebooks, which many users identified with simplicity and elegance, particularly because many users identified simplicity as an appreciated design feature in journals. Our notebook uses only the material that is necessary so that no space or paper is wasted. 
Maximize Recycled, Recyclable, Reusable Renewable, and Biodegradable Materials: 
It is certainly possible to incorporate recycled material into our design. The paper and cover, for example, can both be manufactured with high proportions of recycled content. In addition, the DesigNotebook is designed so that the cover and binding of the notebook are reused beyond the lifetime of one notebook. Once the user has completed a design journal, they simply need to remove the sections and file them for archiving. New inserts may then be purchased and inserted into the covers of the old notebook. 
Reduce Size and Weight: Fewer carbon emissions during shipping. Because our product needs to be portable, it is very lightweight, and the digital aspects of our product encourage users to print less, since photos, etc., can be linked digitally instead. 

Minimizes Packaging: Reduces carbon emissions and materials waste. Our design can be marketed with minimal use of packaging. Many notebooks in the current market are sold with simply a thin strip of paper bearing a short list of features, price, and manufacturer information. 

Durable & High Quality: Designed properly, products can transcend the "throw away" culture. Once the blank pages have been filled, our product has immense value; people don't throw away their inspired thoughts and sketches. 
Acknowledgements:
We'd like to thank Prof. Alice Agogino, Lora Oehlberg, Celeste Roschuni,Tobias Schultz, and all our interviewees.