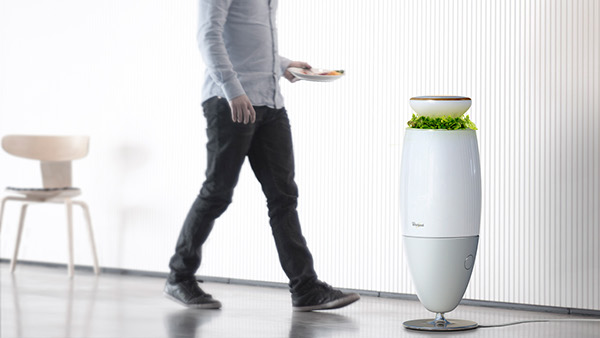 Background.
70 kg of food is lost every year – per person. 97% of this ends up in a landfill where it produces methane. There are several composters on the market today but today, composters are percieved as dirty, as something you hide away or better yet: keep outside.
Design.
 The Urban Composter is a home composting appliance for indoor use. It aims to minimise the negative impact of inevitable everyday food scraps while bringing awareness to the issue by visually indicating the amount of wasted food. 
By controlling the carbon-nitrogen ratio and providing adequate aeration and moisture, greenhouse gas emissions are minimized and the output can be used as fertilizer for your plants or in the landfill to speed up the breakdown of other waste.
Form.

The Urban Composter has an almost clinical look and seems to float on a highly reflective stand to assure the user that it is clean and no unwanted pests are attracted. The form mimics the Greek amphora to convey the idea that it is carrying something valuable: Nature's fuel. The goal was to create a desirable object that you would want to have on display in your home in order to spark conversation and spread awareness of food waste.