It never really crossed my mind that maybe one day, one of my designs would end up immortalized, in a world-renowned bag. So I was really happy when my artwork was the one chosen by Bratpack for their collaboration with JanSport. After months of production and color corrections in the US, the bags finally came here in the Philippines! When I saw the bag, it was amazing. The embroidery was just impeccable. They got everything up to the last detail. Even the super little ones!
So how did I get the nod from the brand?
It all started as a job order for our team last September 2012. I was still in Primer Group of Companies then. They are the official distibutor of
JanSport
here and
Bratpack
is one of their concept stores. So we were all tasked to come up with design studies for this collaboration. Below are the studies I came up with. :)
Since this is an initiative of Bratpack, I wanted to create something artsy. Hahaha. Bratpack is all about the promotion of art and tasteful things. The first one above is just an exploration of shapes. I used oranges in my palette since it's Bratpack's color.
Our boss said it was too generic and maybe we could all consider to incorporate Bratpack's branding or maybe a play with the logo. I tweaked my first design and put in a "b" and a "p" in the middle. If you squint hard enough or step back a bit, you'll see it. Haha. I thought it'd be cool if people behind the one using the bag would see something from afar. Sort of like a pixel art except this one's in triangles.
For the second round I also added another set. I noticed how symmetrical the "b" and "p" of the logo was. I thought maybe I could play with the idea of symmetry and integrate that in the design. With that in mind, I chose playing cards as my inspiration for this one.
We were told that this bag was to come out in May, in time for the back-to-school season. I chose the phrase "Seize the day!" because I think it's apt for everyday school life, or just life. We have to live it to the fullest after all. I put in the heart and the brain because that's what you're supposed to use when you're seizing the day. The bird is, well, free. And we have to be free. Hahaha. Yes.
Anyway, the bosses liked this one. But they told me to tone down the blocks of color. I should keep in mind that this was to be embroidered. Fine lines would suit the design better.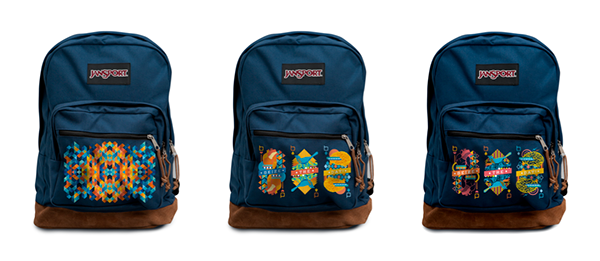 These are mockups. We'd like to see how it would look on the pocket of the bag.
This is the simplified version! This was the one presented to Bratpack, along with the other studies that made it to Round 2. Or 3. Hahaha. I honestly can't remember anymore if the "BP" illusion was included.
Anyway, the brand was very happy with this design so they chose this one! Hooray! This was shown to JanSport's brand manager and then to the principal for checking. They were also happy with it and gave the go signal for production. After giving them (the US people) the FA files, their only feedback is that I used too many colors. Hahaha. It would cost a lot more. I found out I used more than 10 colors.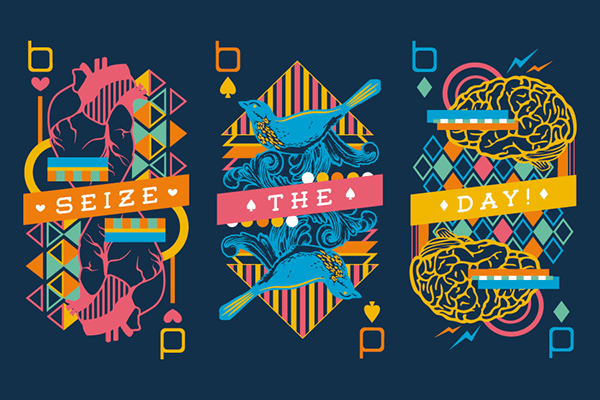 So this one is the very final design with only 6 colors! Yay! The final artwork was then emailed to the US to await production.
After months of waiting, and sometimes forgetting I actually designed something for them, it finally arrived! It was even featured on the cover of
Bratpack's Peg catalog
, their back-to-school issue.
This is something which I also did. Hehe.
And here are more photos! Look at that embroidery!
Bratpack's logo on the side. :)
These are posts from the Jansport's Facebook page! So happy! :)
You can get your own bag at any Bratpack store nationwide! It's also available in Bratpack stores in Hong Kong, Indonesia, Malaysia, and Japan. This bag is limited edition, so buy while supplies last! Hehehe.
Below are online posts from the local press. :)