Agency:
(Agência) Nucleo de Criação da Gazeta Grupo de Comunicações
(HOUSE)
Art Director:
(Diretor de Arte) Marcelo Pozzer
Description of the campaign:
(Descrição da campanha) 
The Northwest Basketball League, competition organized by Gazette Communications Group, will pay homage to former basketball player Matheus Raschen, fire victim's Kiss nightclub in Santa Maria (RS), which killed hundreds of people at the end of January 2013 .
Stage of the amateur tournament, which brings together teams of the State of Rio Grande do Sul, will be played on 20 and 21 April in Santa Cruz do Sul, birthplace of the young. The "Trophy Matheus Raschen", name given to the stage, will be held at the gym of the Sport Club Corinthians, in which Matheus court spent much of his career in the sport, the team defending the city and also the selection gaucho.
The Northwest League, which has a peculiar shape, with distinct rules of FIBA (periods, for example, are seven minutes instead of ten, stipulated by the International Federation), has hosted the talents of Matheus Raschen in previous editions.
In early 2013, weeks before the tragedy that took his life, the former athlete competed in the stage of St. Mary of the League, which won the award for best scorer, leading his team to the runner-up. Even after leaving professional basketball, with passages, including the basic categories of the Brazilian team, Matheus continued practicing the sport.
On the day that Matthew was being veiled, his father, his Nestor, told me that Matthew was the top scorer of the Northwest League. From there, run behind the partnerships we make it and the coming forth of the competition. It will be a beautiful tribute, told Gazeta former SC Corinthians player, Alexandre Cruxen, Brazilian champion with the team in 1994 under the southern command Ary Vidal.
A Liga Noroeste de Basquete, competição organizada pela Gazeta Grupo de Comunicações, prestará homenagens ao ex-jogador de basquete Matheus Raschen, vítima do incêndio da boate Kiss, em Santa Maria (RS), que matou centenas de pessoas no final de janeiro de 2013.
Uma das etapas do torneio amador, que reúne equipes do Estado do Rio Grande do Sul, será disputada nos dias 20 e 21 de abril, em Santa Cruz do Sul, cidade onde nasceu o jovem. O "Troféu Matheus Raschen", denominação dada à etapa, terá como sede o ginásio do Corinthians Sport Clube, quadra em que Matheus passou boa parte de sua carreira na modalidade, defendendo a equipe da cidade e também a seleção gaúcha.
A Liga Noroeste, que tem um formato peculiar, com regras distintas das da FIBA (os períodos, por exemplo, são de sete minutos, ao invés de dez, estipulado pela Federação Internacional), já abrigou os talentos de Matheus Raschen em edições anteriores.
No início de 2013, semanas antes da tragédia que tirou sua vida, o ex-atleta disputou a etapa de Santa Maria da Liga, na qual obteve o prêmio de maior pontuador, levando sua equipe ao vice-campeonato. Mesmo depois de abandonar o basquete profissional, com passagens, inclusive, pelas categorias de base da seleção brasileira, Matheus seguia praticando o esporte.
No dia em que o Matheus estava sendo velado, o pai dele, o seu Nestor, me contou que o Matheus havia sido o cestinha da Liga Noroeste. A partir daí, corremos atrás das parcerias e viabilizamos a vinda da competição pra cá. Vai ser uma bela homenagem, afirmou à Gazeta o ex-jogador do Corinthians SC, Alexandre Cruxen, campeão brasileiro com o time sulista em 1994 sob o comando de Ary Vidal.
Visual identity (Identidade Visual)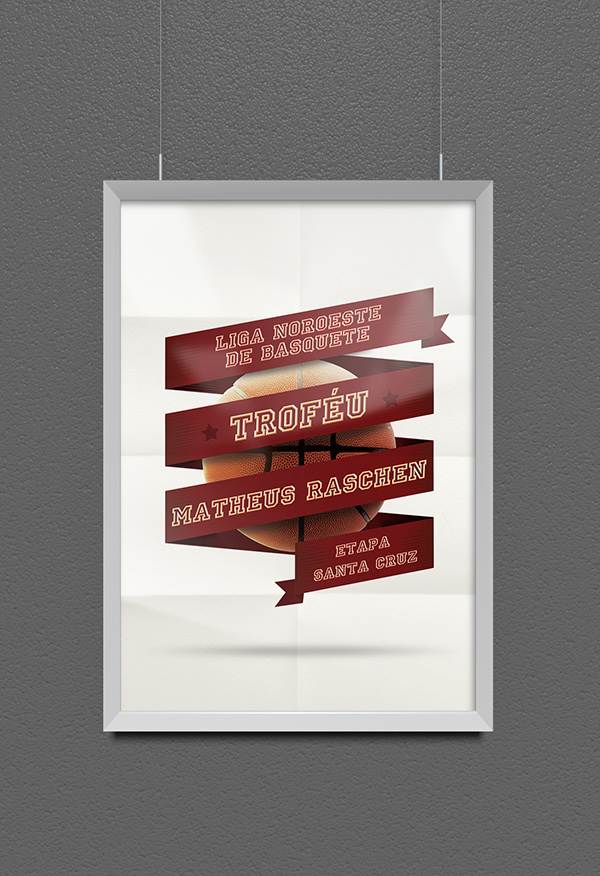 Newspaper Ad - 1/4 page / / Serving Gazeta do Sul
(Anuncio de Jornal - 1/4 de página // Veiculação Gazeta do Sul)
Newspaper Ad (Divulgação no Jornal)
Production: Trophies and Medal
(Produção: Troféus e Medalhas)
Proportion // Trophy (Proporção // Troféu)
Proportion // Medal (Proporção // Medalha)
(Papel de parede para dispositivos móveis)
Flat with background white (Plano de fundo branco chapado)
Flat with background red (Plano de fundo vermelho chapado)
Minimalist wallpaper (Papel de parede minimalista)