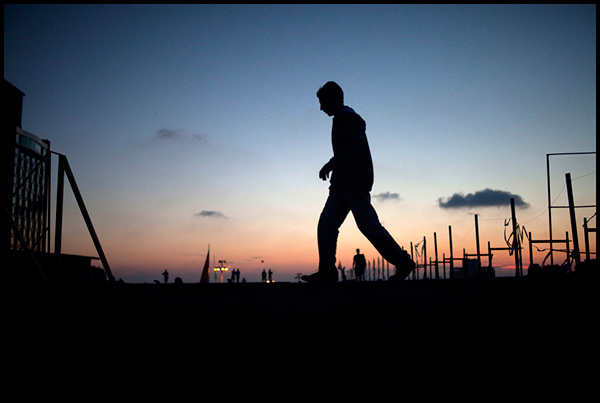 Young boy walks on the roof of Atarturk Cultural Centre in Taksim Square, Istanbul, Turkey.
Protester lights a flare in Gezi Park, 
Taksim Square, Istanbul, Turkey.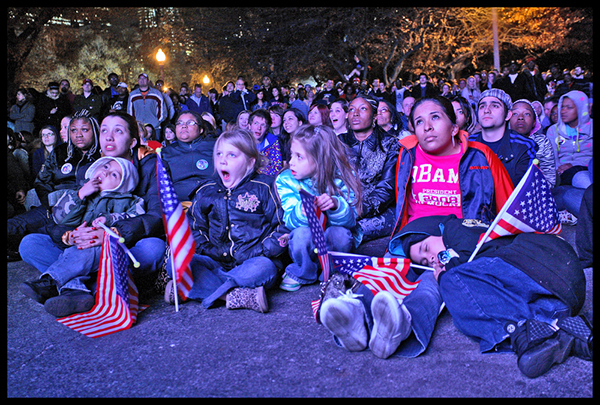 ​Voters gather in Chicago's Grant Park to watch the results of the 2008 US Presidential election in which Barack Obama was elected 44th President of the United States of America.
Park wardens drive past women in early morning mist outside Bardia National Park in Nepal's Western Terai region (2010)​
Dennis, who suffers from Dementia as well as the effects of Stroke, is visited by his daughter , Jane, on his last day at his family home before he is moved into permanent residential care. (UK, 2009) ​
Protester in gas mask walsk through tear gas in Gazi neighbourhood of Istanbul, suring widespread anti government protests in Turkey. 2013
​An elderly resident of Pashupati Briddhashram Social Welfare Home for the Elderly sits on a table in the dining hall of the home. (Kathmandu, Nepal, 2010)
​Young men gather beside river near Bardia National Park (Nepal. 2010)
Children watch on as their friend climbs through barbed wire fence in Phnom Penh (Cambodia. 2006)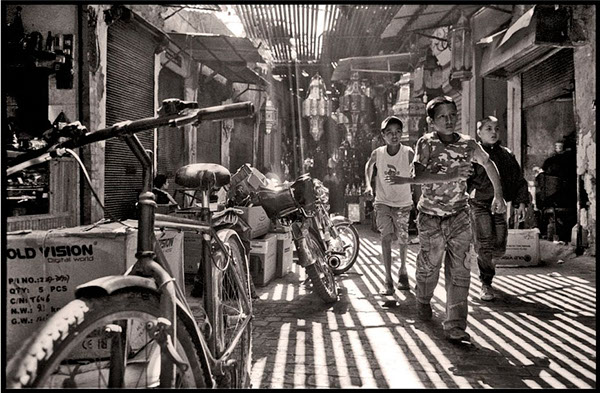 Children run through Marrakech's souks (Morocco. 2007)​
​Monk walks past ruins of Banteay Srei, Angkor (Cambodia. 2006)
​Llama is slaughtered as an offering to Pachamama (mother earth) in a remote area of Southwestern Bolivia (2005)
​Family begs on Panepistemiou Street in Central Athens (Greece. 2011)
​Domesticated elephant in Bardia National Park (Nepal. 2010)
​Protesters stage a sit-in outside Greek Parliament in Syntagma Square, against harsh austerity measures imposed by the government in order to receive an IMF bailout  (Athens, Greece. 2010)
​Passengers on NYC Subway train. (USA, 2007)
​A homeless man walks barefoot through rubbish on roadside just outside of Pokhara, Nepal.
A young boy, high from solvent abuse, stands at the edge of the roof of the now-derelict Ataturk Cultural Centre - overlooking Taksim Square - during massive anti-government protests. 09/06/2013. Istanbul, Turkey.
​Roadworkers in Butwal (Nepal. 2010)
​Hmong children sit on rock overlooking the Fansipan valley. near Sa Pa. (Vietnam. 2003)
​James Petralli of the band White Denim plays at the Hop Farm Festival (UK. 2009)
​Elly Jackson of La Roux performs at Hammersmith Apollo (UK, 2010)
Taquille locals gather for festival in the main square of Isla Taquille (Peru, 2005)
​Quechuan mother and child in Cusco (Peru. 2005)
​Both:
 Voters watch US Presidential election results on Jumbotron TVs set up in Chicago's Grant Park as Barack Obama is Elected  44th President of the United States (2008)
​Left:
 Jimmy Sap, West Chicago resident, after voting on election day 6th Nov 2012 California/Green El station, East Garfield Park, Chicago, IL.
Right: 
​ Tony Johnson, 43,West Chicago resident canvassing at Polling station on election day 6th Nov 2012. East Garfield Park, Chicago, lL
Left: 
Children on boat jetty Isla Del sol (Bolivia. 2005)  
Right:
 Children on tree stump with alpaca in Sacsayhuaman (Peru. 2005)​