MINUTE MAID PULPY ORANGE 2012
Pulp Bhara Gulp
TG Market Expansion 2012 Campaign

Pakistan is a fresh fruit market, to sell fresh fruit in a bottle to the masses, was the main challenge.

Here my team and I, came up with the idea, that if we show the product as real,  and as gory as the real orange eating expereince is - the customer will associate it with the real thing. And Voila! it worked, it was a pretty succesful campaign, and we reached the target we had in mind!

We also localised the slogan to minglish, and used localised lingo to touch base with our audience.
The minglish and local lingo were also worked into the TV Spot.

The TV Spot was made in in a sequential order, teaching the viewers how to get the best out of your Minute Maid Pulpy - well - you need to shake it first before gulping the pulp!
There were several Radio Spots, pertaining to local humor, and desi cult film lingo and refrences.
Team Credits:
Creative Concept & Copy: Sahar Ansari
Art Director: Umair Ahmed
Graphic Designer: Ahmed Mustafa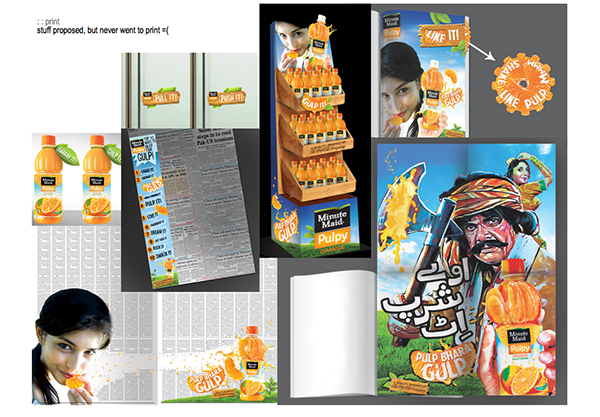 MINUTE MAID PULPY ORANGE 2011
Gulp the Pulp
Limted Budget/No TVC
Limited TG Market 
1 Radio Spot : ( A conversation between a Radio Jockey and a MMPO enthusiast, the enthusiast - beat boxes his answers out - as he is so hooked on pulp, he takes several sips, sounding like a beat boxer!)
Team Credits:
ECD: Madeeha Noor
Creative Concept & Copy: Sahar Ansari
Art Directors: Umair Ahmed & Ayesha Ikram