Staples Global EcoEasy Challenge
Team Members: Griselda Cardona, Maha Haji, and Sarah Thornton
I had the opportunity
to participate in the Staples Global EcoEasy Challenge and was a member of the team that placed First-Runner Up in the competition, winning a $5,000 prize and the possibility that Staples will produce our product commercially. The goal of the competition was to develop a business or home office product that allows users to work more easily and in a manner that is more environmentally responsible than existing similar products.
My team, the Explosi-Divas, designed the EcoStapler, a redesign of the conventional stapler.  
Our concept comprises of three main materials: bamboo, cork, and steel made by an electric arc furnace (EAF) using waste plastics and rubber.  
Customer & User Needs Assessment:
Before submitting our concepts to the competition, we conducted an online survey focused on office products. We discovered that staplers are in fact the most widely used office product of those surveyed and therefore present the greatest opportunity for innovation concerning sustainability.
    We then conducted a survey specifically about staplers and used this information to determine the most important features that would govern our design. We determined that our design should possess durable and portable characteristics as well as be able to compete competitively with other staplers in the market.
Prototyping:
    We then benchmarked our design and researched the properties of our materials of choice. We began the process of prototyping our design by first creating a few low fidelity prototypes using materials such as cardboard and clay. Then, in an effort to develop some working prototypes, we invested some quality time in the machine shop. By the time we traveled to New York to compete in the finalist event, we had created five working prototypes. Below are a few photos of the experience. As many of my friends know, I love taking pictures of the complete process and it was rather difficult for me to select just these few. 
Low Fidelity Prototyping:
High Fidelity Prototyping: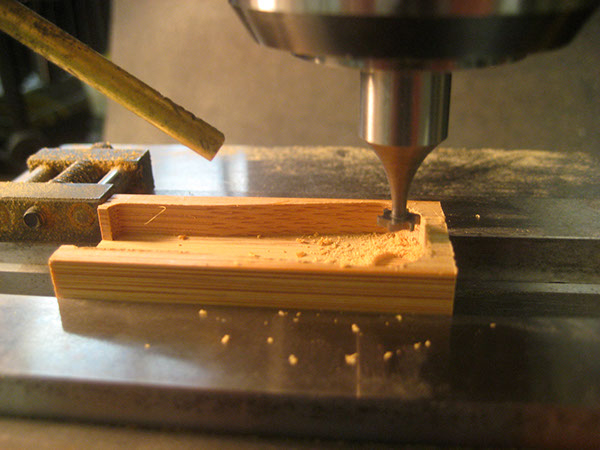 Environmental Assessment:
    Our initial efforts to evaluate the environmental performance of our re-design was to compare the embodied energy of HDPE and bamboo to determine whether the re-design represents an environmental performance improvement.
Acknowledgements:
First off I'd like to thank Staples for this amazing opportunity.  I hope to pursue a career in sustainable product development and this competition not only provided me with hands-on experience but also enlightened me to the innovations and possibilities that lie ahead.
I'd also like to thank the UC Berkeley ME Department machine shop technicians Mick and Gordon for all their help and guidance working in the machine shop manufacturing the prototypes and Professor Agogino for her mentorship throughout the design process. 
Also, thank you to Prof. Dharan, Prof. Dornfeld, Prof. Komvopolous, Dr. Masanet, Carol Schoon, and Meltem Etol for their insights and guidance.