Working closely with London-based Photographer Luke Kirwan, who we had previously collaborated with on 125's Olympia issue, we decided to produce a set of images that played on shadows and the repetitive nature of patterns, emphasizing the stories woven into a white paper dress and halos. 
Transforming the most famous of religious icons, the Madonna, from a beautiful painting into a set of sculptures that would dominate our own slate canvas, felt perfect. 
This core theme surrounds the Madonna and her desolate heart; she is within reach of this symbol of love, but irreconcilably set apart from it, forever confined to a half life, maybe even a preserved death. 
Luke knew that it would be important to bring the sculptures into a more personal world of human depth and interaction. 
Following this, we depicted the dress, studded with geometric fleur-de-lisesque symbols that evolve into beetles and birds, as symbolizing a flight that cannot be achieved by its wearer.  Because of the Madonna's inexorable connection to the mortal world, the birds and beetles are inevitably forced to return to the ground - the reeds and lilies where they were born. The cold stone surroundings and eerie natural light enhance the images' sense of beautiful but mournful ascendancy. 
Photographer | Luke Kirwan
Hair & Make-up | Kenny Leung
First Feature | 125 Magazine 
Clothing & Set Design | The Makerie Studio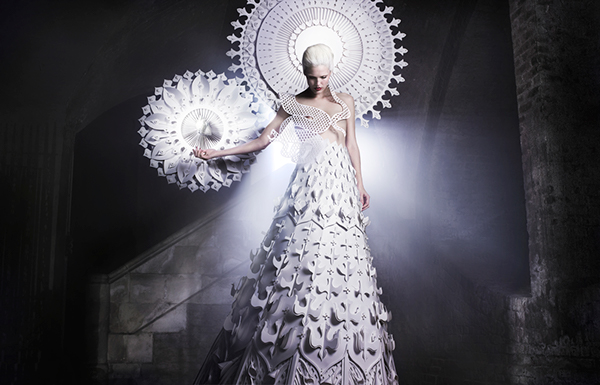 The idea for the Madonna images came while travelling through the Crimea. As well as being rich in lush uninhabited terrains, it is a place where nearly everything is recovering from being broken. The architecture and the people have a certain haggardness, emphasized rather than masked by the cheap attractions and fried food. 

Notably, things are broken - but their belief in religion and the church remains unmarred. Being Russian Orthodox, going to church is a focal point of their lives. And it's not just any churches they visit, but the most exquisite, alluring and haunting palaces imaginable.