During the 1st stages of sketchbook work I came up with this infographic. I was intending to design for the other five styles however I abandoned the idea because of the lack of things to illustrate on some of the styles. For example, Cal Look barely has any accessories etc. It would have looked odd to have some parts illustrated and others with none.
However, I decided to use this infographic design for my degree show as a main focal point on the wall along with photographs I had taken of the Resto Cal beetle.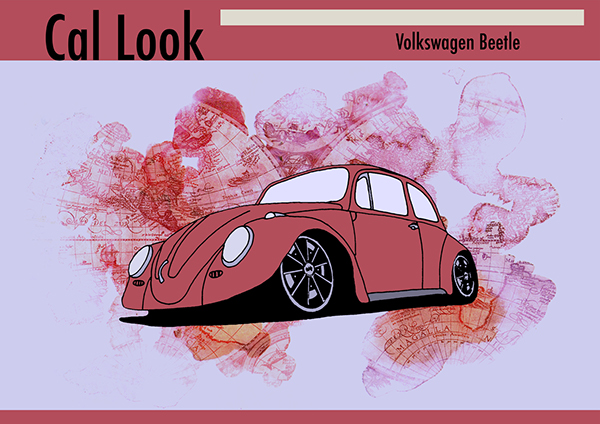 Originally the designs were going to be A2 poster prints with the description next to them. However, I decided create collectable postcards that have the description on the back, explaining what wheels, acessories, suspension, interior and paint job it has. These would then be put in a A6 sized tin.
 Alot of VW enthusiasts like to collect things related to their VW and often have it on display in their vehicle. 
This illustration i did was used on the tin. I changed the colour to monochrome for the tin because of it being silver and wanted the illustration to match. 
I created a repeating pattern of the beetle and had this displayed as a wallpaper for my degree show.