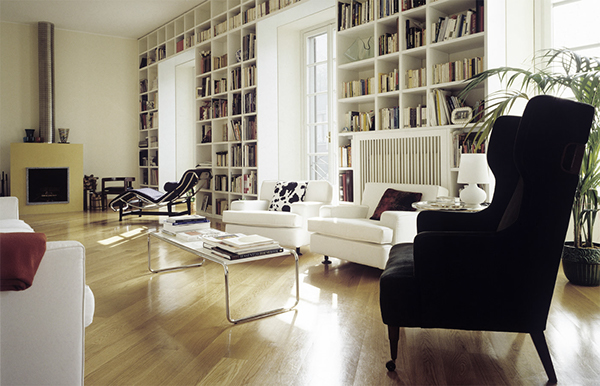 APARTMENT VIA STAMPA – Milan

Surface 160 mq
- floor: 135 mq
- attic: 25 mq

An apartment with a redesigned compact plant, a furniture design and all about classic pieces inserted securely. Completely abolishing the central corridor and framing the windows in a library that runs along the entire wall of the living room, we wanted to make the absolute protagonists of the apartment with natural light and a view of a park and a historic basilica in Milan. The fireplace on one side and the ladder to the attic on the other two points are in the living area important perspective, highlighting the unity of the space, where the various functions of being together are only separated by dividing walls and the staircase can become a 'further informal session. Designed in every detail - from the doors of the fireplace from the kitchen to the baths, from the library to its super walk-in closet under the stairs - this house does not betray, while amending them, the characteristics of a housing in Milan late nineteenth century, but rather actualizes enhancing them.
Project by Paolo Frello 
Collaborator: Marco Vignati 
Photo by Gionata Xerra

Un appartamento riprogettato con una pianta compatta, un arredo tutto su disegno e pezzi classici ben inseriti. Abolendo completamente il corridoio centrale e incorniciando le finestre in una libreria che corre lungo l'intera parete del soggiorno, si è voluto rendere protagoniste assolute dell'appartamento la luce naturale e la vista su un parco e una storica basilica milanese. Il camino da un lato e la scala alla mansarda dall'altro costituiscono nella zona giorno due punti prospettici importanti, che evidenziano l'unitarietà dello spazio, dove le varie funzioni dello stare insieme sono separate solo da setti murari e la scala può diventare un'ulteriore seduta informale. Disegnata in ogni dettaglio – dalle porte al camino, dalla cucina ai bagni, dalla libreria all'attrezzatissima cabina armadio del sottoscala -, questa casa non tradisce, pur modificandole, le caratteristiche di un'edilizia milanese di fine Ottocento, ma piuttosto le attualizza, valorizzandole.