|

Tales from the Middle East

|
"Tales from the Middle East"  is project born in one month art residency program in the UAE ( United Arab Emirates, Abu Dhabi
 and Dubai).  It consists of 7 pieces/ paintings  created  in mixed media technique including combination of acrylic & collage work  on canvas, almost all made in
large scale
. 
Inspiration came from the exposure to the completely different surrounding than  one i knew before this 
"crash of the worlds", culture and
life values
that i came across, various people, their tradition, religion, heritage...Rich and vibrant stories and fables from the native arabian culture, traditional motives that are characterizing their  land ...I have tried to embrace it all and feel it like a person
born and raised on the old continent but very open to these new external influences which which i found very inspirational and that have shaped my body of work implementing their marks into my own creative  and thinking process. 
I trust i have produced one interesting emergence of flavors that representing mix of  "west" and "east"...:)
| "D R E A M S  O F  O R I E N T"|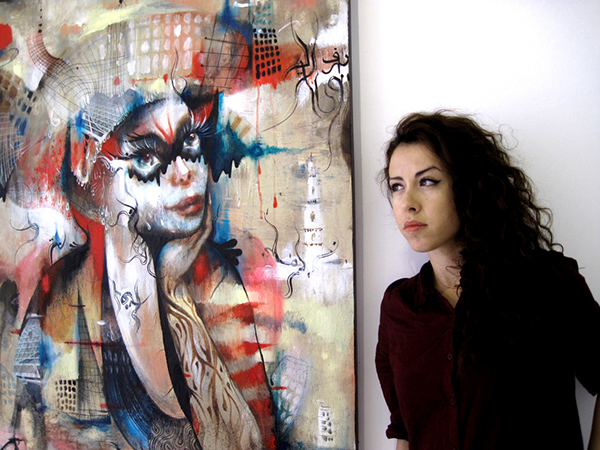 | "WHEN EAST MEETS WEST"|
Acrylic on canvas,
100 x 80 cm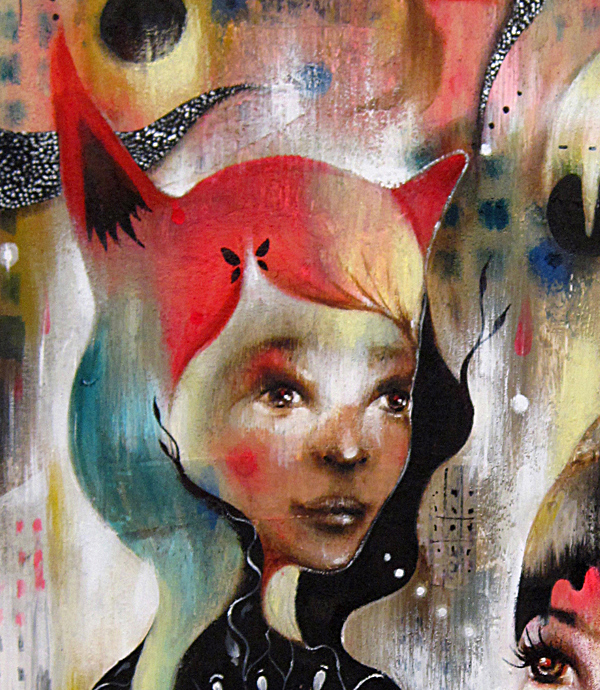 | "MIDDLE EAST PRINCESS"|
Acrylic on canvas,
60 x 40 cm

| "MICKEY MOUSE GIRL"|
Acrylic on canvas,
20 x 30 cm

 |"BURKA  - INSIDE : OUT"|
Acrylic on canvas,
100 x 140 cm
 
|"TWO FUNNY CAMELS, IN THE DESERT"|
Acrylic on canvas,
70 x 200 cm
|"CITY CAMEL"|
Acrylic on canvas,
100 x 200 cm
|"AREN'T WE ALL LIKE THE FISHES IN THE SEA..?"|
Acrylic on canvas,
100 x 140 cm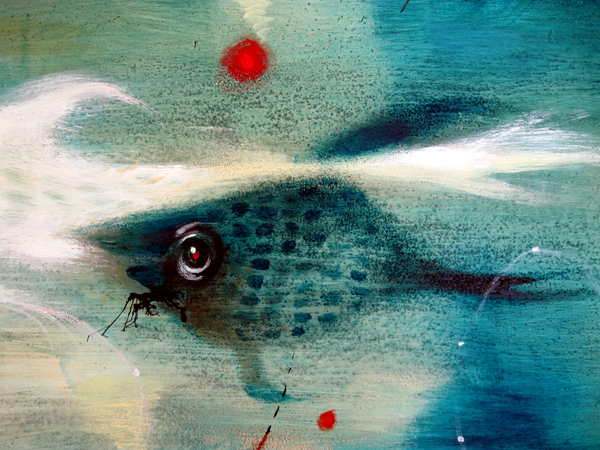 Magazines publications & editorials, blogs, various selected art related web portals/ 
collaborators:
Beautifull Bizzare
Digital Arts UK
DEPTHCORE artist collective USA (member/ voted)
Juxtapoz/ USA
Creative review/ UK 
Get inspired/ NL
Lamono/ SPAIN
New Web Pick/ JAPAN
Castle/ USA
Candy/ USA 
Digital Ink/ USA
Chew/ USA
Art Nectar/ UK
Empty Kingdom/ UK
Catapult Art Mag/ USA 
Dailyartfixx/
Sweet Station/ NYC,USA 
Upperplayground/ USA
Living Design/ 
Robot mafia/ GERMANY 
Date-Hub/ ITALY
ELLE/ R.Serbia,
JOY/ R.Serbia,
Gloria/ R.Serbia
and many others..
SOLO SHOWS:
2014  "Djoon", Paris, France - mixed media project presentation - Samsara
2013 "Amantes cultural center", Torino, Italy - mixed media works"Samsara"
2012 "Dorothy Circus Gallery", Rome, Italy -  paintings "Last drop of innocence" 
2012  "Galo Art Gallery", Torino, Italy -  paintings "visiONs OFF an empty mind" 
2011 "Pagus gallery",  Philadelphia, USA - serial of paintings and drawings "Circle of life" 
2011  "Fache Arts" Gallery Miami, USA - paintings and drawings - "Meaning of life" 
2010  "Belgrade cultural center", mixed media illustrations "Why ladybirds eat people?" 
2009 "Fache Arts" Gallery Miami, USA - paintings and drawings "Stories from a Neverland" 
Group shows (selected):
2014  "MAD in Italy"group show, EnimAritst, Milano, Italy
2014  "Dream factory gallery", Frankfurt,Germany - "Hidden Kingdoms show"
2014  "Il posto delle favole",  Edizione 2014, Rocca Sinibalda, Museo A.Miniucchi
2013  "Lacrima Aquarium", Aquario Romano MUSEUM, collaboration with Dorothy Circus Gallery, Rome, IT 
2013  "Wanderlust",  Modern Eden gallery, San Francisco USA
2013  "6 impossible things before breakfast", Dream factory gallery, Frankfurt, Germany
2013  "Abu Dhabi Art Hub" / Italian Month Exhibition/ Abu Dhabi UAE
2013  "Stroke art fair"/ Munich, Germany - represented by Pretty Portal Gallery
2013  "Bears in the honor of spring"/ UK Parobord, Belgrade, RS
2013  "Painted sound",  Flower-pepper gallery, Pasadena, USA
2012  "Urban Expo,"  Pretty Portal gallery,  Dusseldorf, Germany
2012  "Pop surrealism- Stay foolish",  Museo Casa del Conte Verde, Rivoli, Italy
2012  "Runaway circus",  August Clown Gallery,  Melbourne- Australia
2012   SWAB,  International contemporary art fair,  Barcelona - Spain 
2012  "Game over",  the Nova Belgica Art Gallery, Saint Truden - Belgium
2012  "Illustrated",  Pretty Portal gallery,  Dusseldorf - Germany
2011  "Summer show",  Hive Gallery,  LA - USA
2011  "Alterazioni Visive", Arcidosso - Italy
2009  "Golden Pen of Belgrade",  International Triennial of Illustration, Belgrade - Serbia 
2009  "Cut & Paste / postcard exhibition"  international exhibition, digital graphics, Stockholm - Sweden
..Thank you for watching...