One of the main ideas while we were doing this project was to incorporate the building in the geometrical form of the circle which represents the perfect form in architecture. It was of crucial importance to choose a perfect site for the project since it needed to be a place of quiet contemplation as far away as possible from the noisy city center but  close enough to be reachable by car in 20 minutes.
A perfectly quiet and wooded area surrounded by nature yet close enough to the city center was the mountain of Avala overlooking the city of Belgrade.
As soon as we picked the location we started developing the idea, minding the relation of form and proportion while trying to incorporate the building within the site as seamlessly as possible.

The first step in the form-finding of the building was to divide the circle in 2 parts. Since the circle had 60 meters in diameter we decided to apply the golden rule of architecture in the process of division. The place where the section occurred marked the place of the outer Crematoria wall. The other part of the circle was represented as a huge pool of water. Later on a bridge was implemented in order to connect the entrance with the main structure. The main section wall and the bridge are made in the golden rule ratio.

A simple white color was applyed for the whole bare concrete facade making it neutral for the eyes of the mourners. White symbolizes purity and innocence in the afterlife.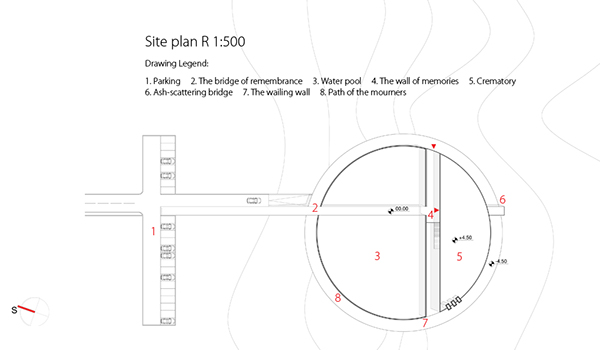 The whole complex consists of 5 main parts mutually connected. The first and most important part is the Crematoria itself, resembled as a pie slice of the main 30 meter radius circle.
The second part of the structure which is also the biggest is the pool, dividing the main structure from the entrance point.
" The wall of memories " which is the 3rd part divides the poll from the Crematoria creating a narrow corridor which connects the entrance with the exit point. In order to brake the feeling of narrowness a denivelation point has been made with a staircase. An outer Columbarium is imprinted in the upper part of the wall.
" The bridge of remembrance " is the main path of entrance passing over the pool and through the main building where it transforms to an overhanging truss ( allows ash scattering ).

The final part the " Path of the mourners " is represented as an exit ramp connecting the entrance point with the Crematoria. The water from the pool overlooking the ramp slowly overflows the edge of the pool making this " The Wailing Wall ".