Urbino Student Housing Guide
This illustration was made to show and explain some data that was collected during an assignment on student houses in Urbino, Italy.
I chose to use a simple and clean style to have an extra appeal on more people, because I thought that a cleaner style would be felt as "cold" and inexpressive.
I also played around with visualizations, trying to merge data into the illustration and not to make them show up too much. The percentages shown are the 3 picked most.
(On top of each particular i added the english translation of the question).
An overall view of the illustration
 Do you live inside the city walls or outside?
Do you have any neighbours?
What kind of services are available near your house (shops, drug stores, bars, banks, etc)?
Beware of wild hogs!
Is your house big enough for all the people living there?
Do you have a single bed room or do you share it with another person?
What's the price of a single bed bedroom? What's the price of a shared bedroom?
(I decided to put only the 3 price ranges that emerged the most, with percentage)
How do you rate your house? Are you satisfied or not?
A little drawing of Urbino (a small medieval town on top of a hill) in the middle of the drawing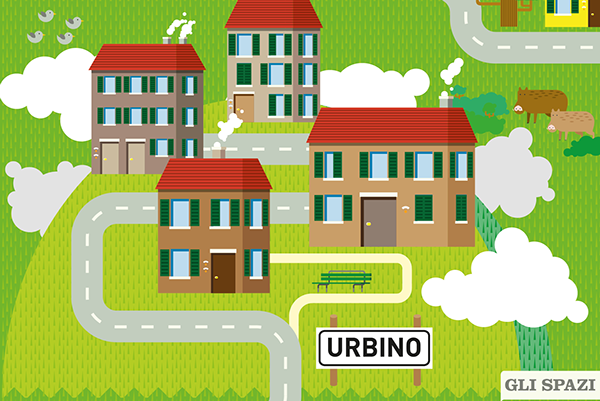 And again the final illustration