This is a documentation of the Communications Design Class of 2014 working as a design firm for ProLiteracy. We are a group of students dedicated to making a difference through the process of critical thinking and design. Through brainstorming, generating rough ideas and finally creating completed work, together we developed numerous solutions for ProLiteracy to implement into their business and marketing plan.
Our team divided into three different subgroups: awareness, funding, and the future. Utilizing each other's strengths and weaknesses, we explored multiple avenues of how to best solve their problems through design. The awareness group created three campaigns that tackled the idea of gain awareness in different ways. The funding group developed a myriad of 3-dimensional projects as a way to attract potential donors. Lastly, the future group explored the several areas of technology and attempted to generate products for ProLiteracy in the future.
FUNDING
HOW TO RAISE MONEY.
The Funding Group attempted to think of creative solutions for ProLiteracy to reach out to corporations and potential donors. Through our designs, we wanted to develop an emotional connection with the public so that they could see the value in literacy and therefore would want to help those low-literate learn to read and write.
 
STACKABLE CARDS
These cards can be mailed to potential donors, such as established company CEOs who will see the benefits of partnering with ProLiteracy. On the front of the cards, there are bits of important information on who ProLiteracy is and what they can do to fix the adult literacy crisis. The back of each card shows the phonetic spelling of what is on the front, again, keeping the focus on reading and education. The notches in these cards allow you to put them together and build a structure.
MIRROR, MIRROR
This book is a direct mailer designed to communicate a specific message with an element of surprise. When potential donors first see the book, they will probably think it is just a normal novel. But this is no ordinary book. When opened, readers will see that the pages emulate the traditional illuminated manuscript style, mimicking the notable Snow White tale. The poem includes rhyming language asking for donations to ProLiteracy leaving a smile in the mind.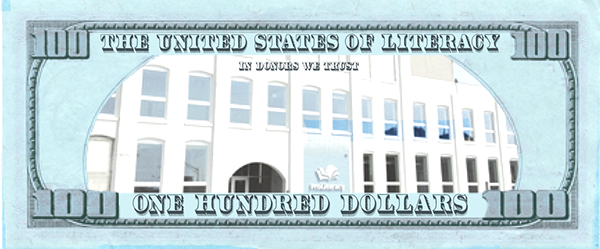 MONEY MAILOUTS
These bills, similar to the stackable cards, are a simple solution for monetary donations. This bill is completely customized for ProLiteracy with a blank silhouette reading, "This could be you". This refers to the idea that you could be the face donating money to help millions of adults improve their literacy skills. Additionally, the ProLiteracy dollar contains necessary contact information to make it easy to donate.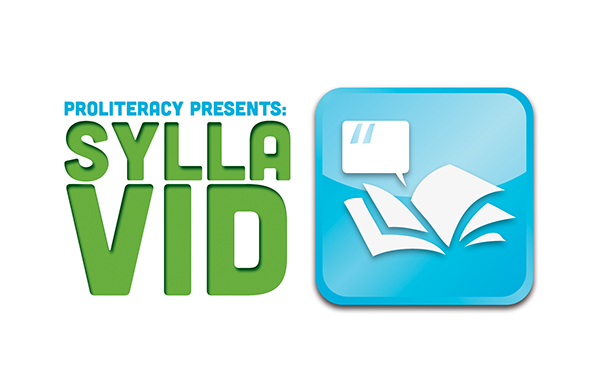 SYLLA VID
Sylla Vid raises funds through the purchasing of this app. It generates a funny video that the user can share with their friends via social media. The video is generated based on the user's selection of a prompt such as "letter" or "word." After selecting a prompt, the app will guide the user to record a set of short videos. The final video is a mash-up of the previously recorded frames. The users of this app will revisit it again and spread the word to their friends creating more awareness.
AWARENESS
GAINING INSIGHT
The Awareness Group executed two campaigns that assessed ProLiteracy's issue very differently. The One Letter Campaign touched on the fact that each letter makes a difference and is essential in the process of learning and understanding words. Branching off this campaign was the Vision Campaign, which embodied a typical eye chart, yet displayed a call-to-action message encouraging donors to give money to the organization. The second campaign was titled The Cause/Effect Campaign which explored the several different challenges low-literate individuals encounter.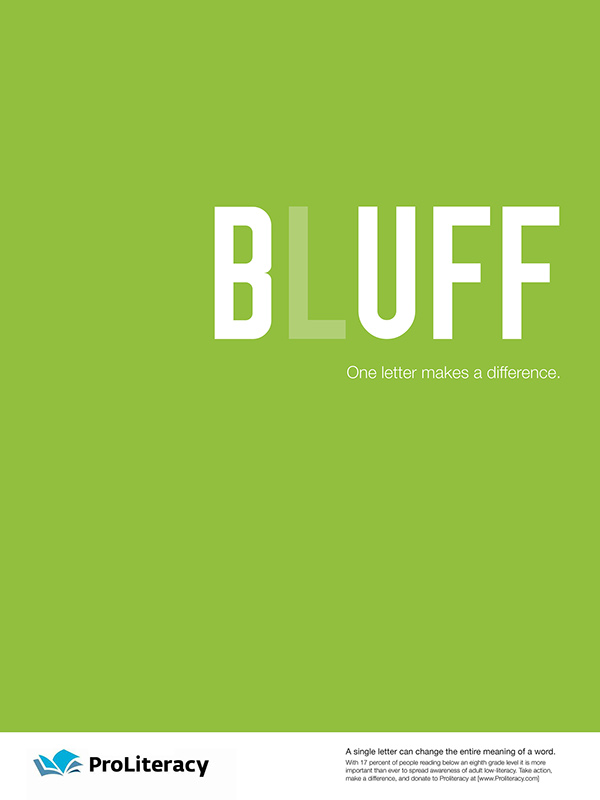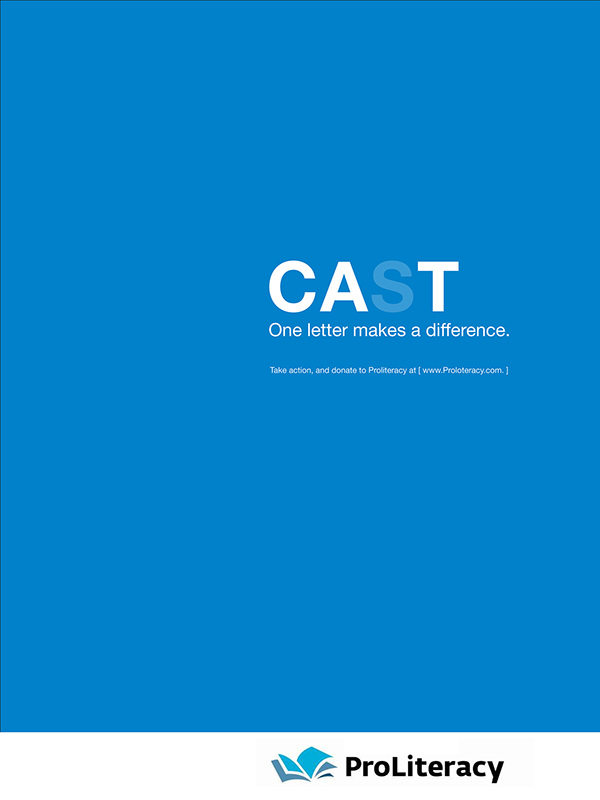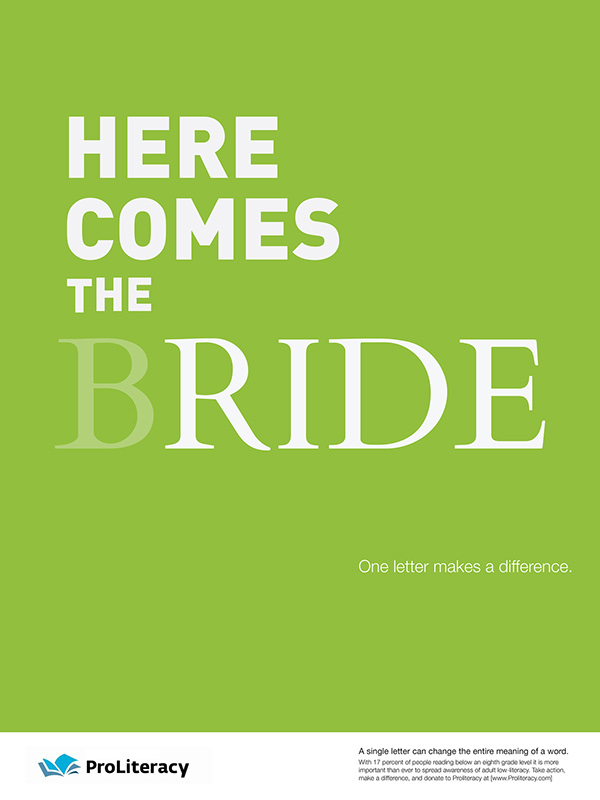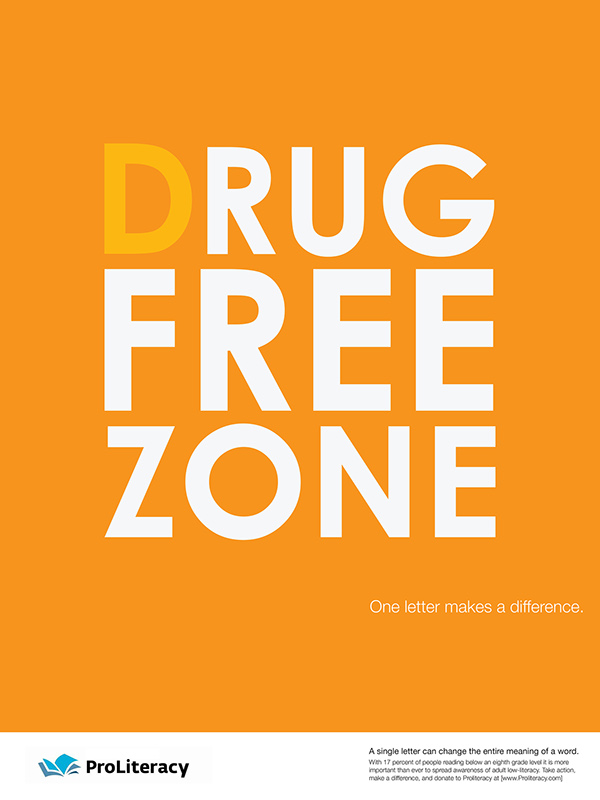 ONE LETTER
The One Letter Campaign is an awareness campaign aimed to educate the general public of how important it is to end adult non-literacy. The campaign is comprised of advertisements showing single words and short phrases that have one letter taken away, changing the meaning. This emphasizes the value of literacy.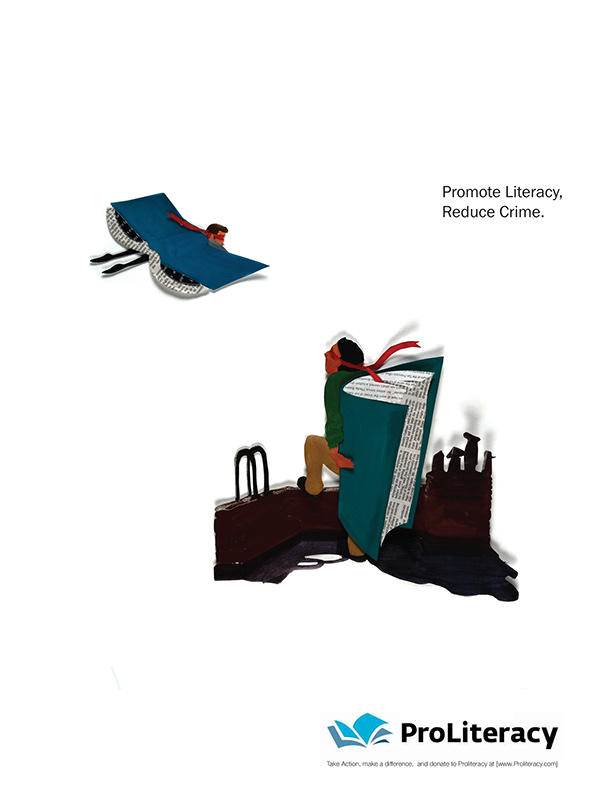 CAUSE AND EFFECT
This public service announcement is a more personal solution that uses cut paper and animation to tell a story. It is a whimsical narrative of how literacy affects various socio-economic problems. The book is the magical tactic that resolves these issues. It communicates that if the community takes a hold of this pandemic, together they can defeat low-literacy.
STOP MOTION
These short graphic animations are aimed to show how literacy and other socio-economic problems are directly related. These can be used as short public service announcements to educate people about the low literacy issue.
FUTURE
OH THE PLACES WE'LL GO!
The Future Group approached ProLiteracy's issues in a very innovative and astounding manner. They designed and executed five different projects, all in which tackled the problem in different ways. Their main focus was integrating technology and already utilized ProLiteracy material. Ultimately, they designed solutions in which ProLiteracy can implement over the next five, ten even twenty years.

THE NEXT CHAPTER
This is designed for adults with the lowest level of literacy helping them during their daily lives to become more independent. The user can take a picture of an object that they can't read, and the app reads it aloud. Snap and learn will save the picture to their flashcard deck located through EdNet for them to review later.
RESPONSIVE WEB DESIGN
As a cheaper solution to the native application, our responsive web site can be used on any device, any operating system and any screen size.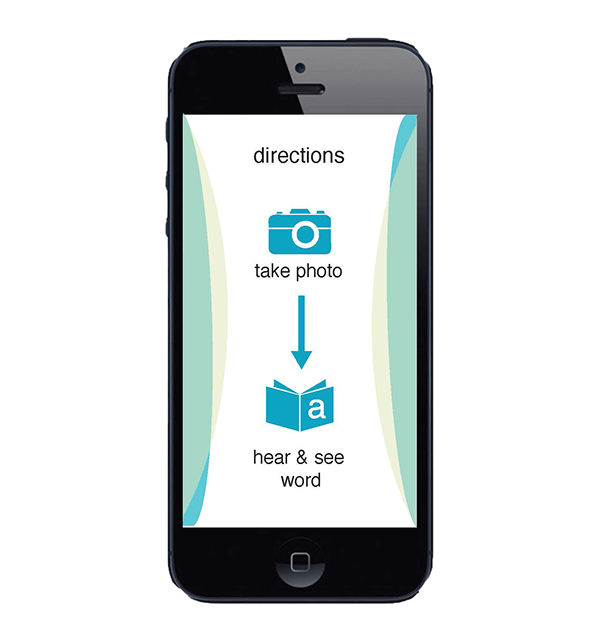 SNAP & LEARN
This is designed for adults with the lowest level of literacy helping them during their daily lives to become more independent. The user can take a picture of an object that they can't read, and the app reads it aloud. Snap and learn will save the picture to their flashcard deck located through EdNet for them to review later.


EDNET
This website is a revamp of the current ProLiteracy educational network website, linked within proliteracy.com. This will provide more tools to people who are low literate and make it easier for them to access materials. The additional tutorial will teach digital literacy on how the products will be intuitive and easy to use for adults of all reading levels.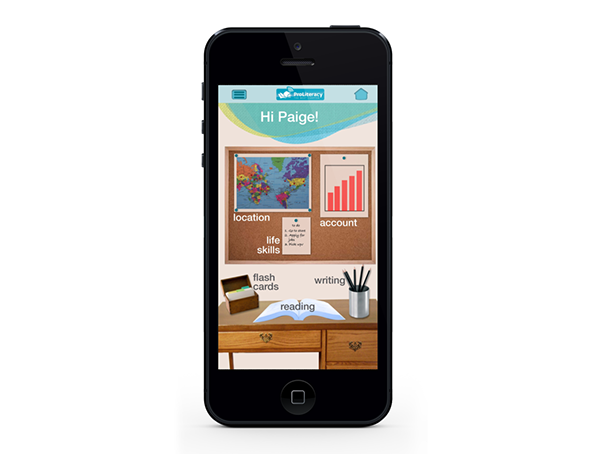 EDNET NATIVE APP
In addition to the revamp of the website we felt that a native application fulfilled the need for on the go learning. Also, our target demographic was shown to use a smartphone as their primary source of internet.
NEW READERS PLUS
This is designed for adults with a higher level of literacy who want to utilize their skills and practice their critical reading. This application takes ProLiteracy's New Readers Press and creates an online downloading platform where the learner can read books while getting the help you need along the way. In addition, this application houses an online book store, which allows readers to search through books of different reading levels, buy them, and share them through the book club. Another feature of this application is the appearance of the text within a book, which slowly appears on the screen. This allows the readers to not feel overwhelmed by the text, creating an encouraging environment while reading.
GOOGLE GLASS & PROLITERACY
This is an opportunity for ProLiteracy to collaborate with Google Glass and create an application that can greatly aid in learning how to read. The glasses would help the user learn words in everyday life situations, such as the spelling and phonics of words. Because of these glasses, low literate adults will be able to become more independent. Glass could function as flashcards, identifying objects that adults may come across. The glasses would also be able to break down complex information, such as a prescription label. They could also facilitate community based learning, such as a book club.

PROLITERACY
The designers would like to thank everyone at ProLiteracy for collaborating with us during our semester long project. This collaboration has been a huge success, thanks to the numerous employees at ProLiteracy. Without your assistance and participation, our successful designs would not have been possible. Thank you for this once in a lifetime experience!
COMMUNICATIONS DESIGN CLASS OF 2014
CEOs
Bill Padgett
Rod Martinez
We would also like to thank our professors, Bill Padgett and Rod Martinez, for all of their support and encouragement during this process. Without their involvement, our experience with this class and ProLiteracy would not have been the same. Thank you!
FUTURE
Sean Danz
Chris Guimarin
Susie Kim
Stephanie Lin
Meredtih Mendosa
Angela Poccia
Sadie St. Germain
PR
Chris Guimarin
David Manzler
PUBLICATION
Cassie Skoras
Sadie St. Germain
Jessica Tuck
AWARNESS
Zuly Beltre
Tierney Latella
Kelsey Ligget
Rebecca Mass
Sara Massarsky
Cassie Skoras
Cassie Stroman Good
Jessica Tuck
FUNDING
Katie Cranley
Jennifer Gubernick
David Manzler
Monica Mo
Sam Proctor
Ciara Goins
ILLUSTRATOR
Elizabeth Latella
VIDEO
Ciara Goins
Susie Kim
Meredtih Mendosa