Hidden Gems was the brand I created in response to the JKR Juice Competiton. 
Hidden Gems is a company founded by a group of Urban beekeepers across the globe. They are passionate about sustaining bees and the cities ecosystems. Their aims are to create products which are distinctive and different to what you'd normally expect to find. They want consumers to enjoy their products, and in places which offer a more eclectic and novel experience. A product to enjoy with friends, family and individually. 
The Hidden Gems range consists of five global meads. 
Mead has a rich history, appearing in many Celtic traditions as the drink of kings and the gift of the gods, along with being the conferrer of artistic inspiration and knowledge. However, over time, and with the introduction of new alcoholic beverages, mead which was once a staple drink of many cultures, decreased in popularity. However in recent years, the production of mead has seen an increase, reviving its unique taste; and re-introducing it into the current market.  
Hidden Gems London Mead. The Packaging consists of a peelable label which reinforces the hidden aspect of the brand. 
Combining packaging and advertising. Each packaging contains a map of the city which indicates bars and restaurants that stock Hidden Gems Mead. Further bars can be discovered online.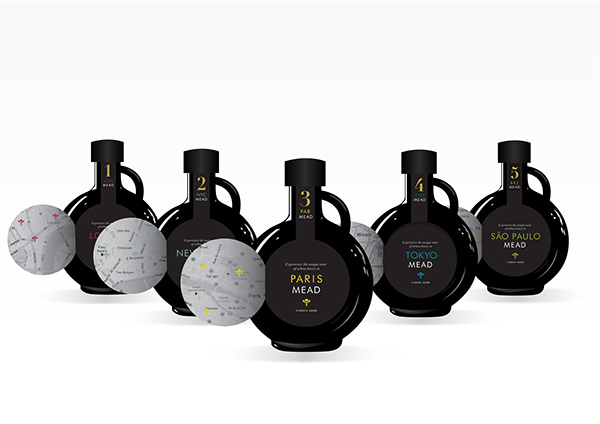 Hidden Gem bars and restaurants in the city which would stock Hidden Gems Mead.