It's been some time since I've actually done anything on here and found I'm still getting followers (Thanks a lot ;D ) so I thought I'd better give them something to look at.
Whilst I wanted to do something completely different media wise, all I have at hand is the same old pixel program so I though what the heck "Stick to what you're good (ok) at!"
I've wanted to do something with two piece bands since the beginning because strangely enough I listen to a lot of them so I've created about 5 Images of 5 famous (mostly) musical duos. Enjoy
I made this in the style of their look around 2003/2004 because I that's probably my favourite period with the release of the album 'Elephant'. The 1st record I ever bought was the single 'Hardest Button To Button' from the same album and was what inspired me to learn guitar. 10 years later and I'm still listening to them and still playing guitar!
(...Holy sh*t 10 years!)
Death From Above 1979 are also a huge inspiration to me and I've been lucky enough to see them live. This was inspired by a photo of them after they reformed sporting a kind of "Ying Yang" look.
Inspired by their more recent look. I found out about these guys a year or so before they got really big because I was look for some Two-Piece bands for inspiriation for a band of my own, so glad I found them and that they're big, they deserve it! Another band that inspire me greatly.
Blood Red Shoes are another duo I found when looking for Two-Piece bands.
Funnily enough the 1st time I tried pixel art was when making some artwork for the two-piece band I made after finding all these bands... maybe I'll upload that?
P.s. Laura-May Carter is pretty damn hot! Even without a guitar in her hands!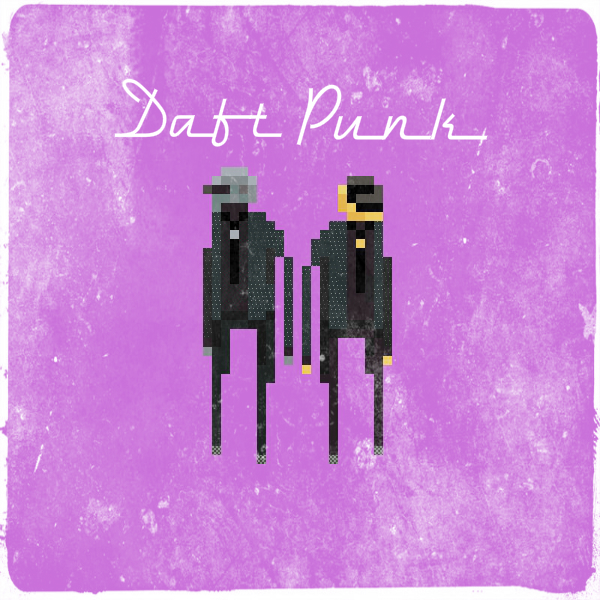 Hopefully I dont have to say anything about these guys!
Daft Punk are literally the only musicians in the world that NO-ONE hates! Probably because they're robots, everyone likes robots, and funkalicious music for that matter! This one was inspired by their latest success R.A.M (Random Access Memory) where they don sequin jackets and diamond covered boots.
These are the only Duos I can think of for now but as soon as I think of some I'll add them!
                                                                 Thanks for having a look!!