Konferencje / Conferences
dzieliłam na kwadraty. Później rozdzielałam je jak puzzle, na wiele różnych sposobów. Ta metoda pozwoliła mi na zaprojektowanie nieograniczonej ilości plakatów spójnych stylistycznie. Ponieważ na początku nie wiedzieliśmy jeszcze jak wiele konferencji odbędzie się w szkole, sposób ten stał się wygodny i praktyczny. Dodatkowo w pierwszych plakatach słowa "Les conferences histoire du design" są nierozproszone lub rozproszone w bardzo małym stopniu, tak by wciąż były czytelne dla odbiorcy, który dopiero dowiaduje się o wydarzeniu. Jednak z czasem słowa te stają się coraz bardziej nieczytelne. W ostatnim plakacie nie możemy ich już w ogóle odczytać. W ten sposób przedstawiłam upływ czasu konferencji. Odbiorca może już z daleka wyczuć, że cotygodniowe wykłady dobiegają końca. Natomiast podstawowe informacje na temat poszczególnych wydarzeń są zawsze usytuowane obok i pod główną częścią kompozycji.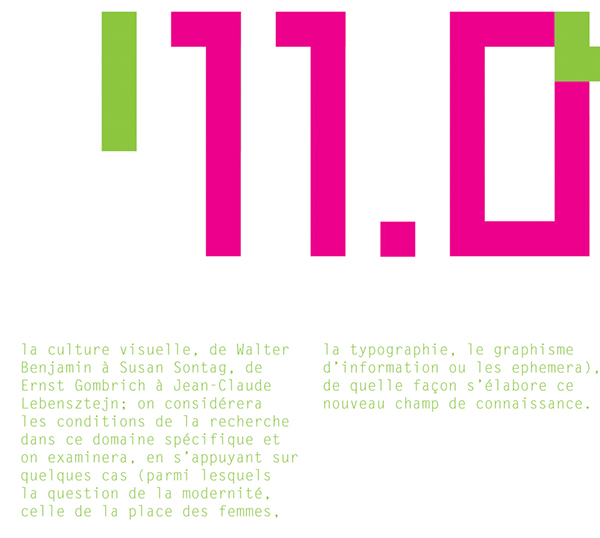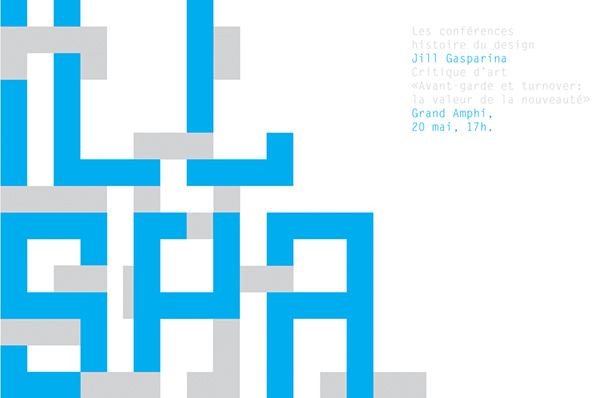 Violetta Villas
Prezentacja fontu o tematyce "Pastiż" zrealizowanego w Pracowni Znaku i Typografii (ASP w Poznaniu)

Font inspired by famous polish singer Violetta Villas. It was made in Sign and Typography Studio during my studies in Academy of Fine Arts in Poznan.
Autorski krój pisma - szkic.
My typeface - sketch.

Autorski krój pisma zrealizowany na II roku studiów.
My typeface designed during the second year of studies.

Uniwersytet Artystyczny w Poznaniu - program wystaw na rok 2010.
Academy of Fine Arts in Poznań - agenda of exhibitions in 2010.

Folder składany, dwustronny, o wymiarach 100 x 70cm.
Folding flyer, two-sided, size 100 x 70cm.