Getting from Then to Now...
Follow Mark Moriarity's journey as he took this one of a kind show car called the "Dream Rod" that was envisioned by Car Craft magazine in 1961; custom built by the famous Bill Cushenbery in '63; then rebuilt into the "Tigershark in '66, then abandoned in a garage for the next 30 + years. Mark found the modified scrap remains, and in less than three years transformed it back into its original shape; 
thus the "Dream Rod" resurrected by Mark Moriarity. 
In early 1963, Car Craft commissioned custom car builder Bill Cushenbery to build their vision.
He gladly accepted. He built the car on a rare 1952 Jowett Jupiter chassis using a VW torsion bar in front. Bill did the frame in gold metal-flake. He used front fenders and doors from a '60 Pontiac, upper rear quarters from a '60 Chevrolet Corvair, the windshield and top from a '53 Studebaker, and the rear window from a '57 Borgward Isabella Sedan turned upside down. Inside, the car featured a '58 Mercury dashboard restyled with a '59 Lincoln ashtray. Bill gave the car its power from a 289 Ford engine. The Dream Rod was completed late '63 and was featured in many national events over the next few years. Keep these details in mind, for what you are to see next...
30+ years later, Mark got a tip that the remains were scattered in someone's garage. This is the condition he found the once pristine Dream Rod. You'll notice that it no longer looked like the futuristic visiion it once was.
What happened? In '66 the Dream Rod was sold to the ISCA, which commissioned a substantial revision to the car's styling. Many new alterations included a hood scoop, closing up the side roof scoops, the trunk lid was eliminated, the rear was stretched 6 inches, the rear window, grille opening and front fenders were also modified. This new vision was called the "Tiger Shark". It also, did the show circuit for a few years.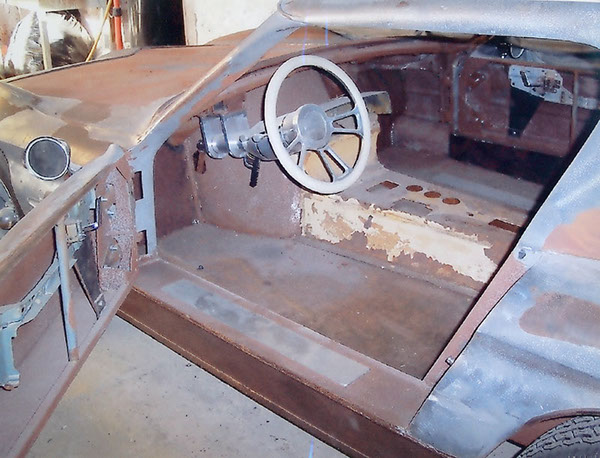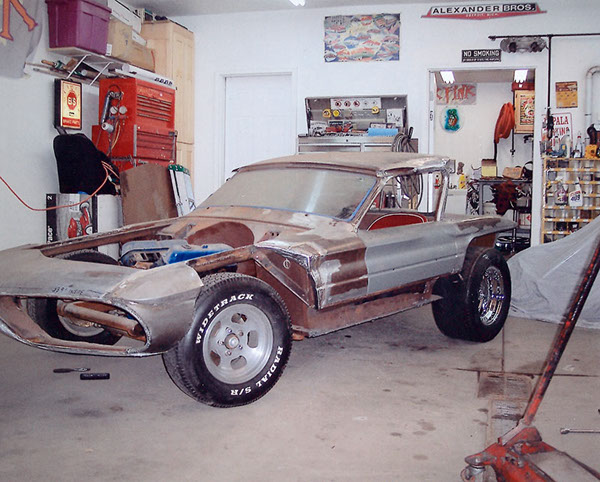 Remember, the Dream Rod originally sat on a Jowett Jupiter chassis (have you ever heard of one)? Considered one of the most obscure chassis under any rod; as Mark discovered when he tried to find a replacement for the long gone original. Only 700 were ever made.
On to matching the original color scheme...
Mark found some old overspray under the center console and some gold from flakes on a chunk of the old Jowett frame.  He had the "Desert Sand Pearl" paint custom-mixed, then Mark himself shot the color, including the intense gold fade highlights.
Virtually nothing from the Dream Rod's interior survived the modification into the "Tiger Shark". Using old photos and a magnifying glass, Mark was able to accurately recreate everything, starting with the cut down Triumph TR-3 seats. The headrests, steering column and wheel were all recreated from scratch. He equipped the console with its intended '58 Mercury gauge cluster and '59 Lincoln ashtray and window-switch panel - that must have been a powerful magnifying glass. 
The Dream Rod originally was powered by a sporty K-code Ford 289. When Mark took possession, it only had the bare block. Upon tracking down all the other rare bits, he then rebuilt it. He went on to recreate the aluminum dog house, fan shroud, and inner fender panels. Note the twin single master cylinder setup.
The "built from scratch" head light. Perfect match to the original, again using only old photos.
Unbelievable job Mark did on recreating the original grille opening, headlight assembly as well as the wheel housings, and funky steering wheel. Finding original wire wheels and bias-plys was no easy feat either.
The entire rear clip was recreated from scratch using the same materials as Bill Cushenbery used: a first-gen Corvair, conduit, and hand-hammered sheet material. The "chrome" in the rear cove is reflective tape - the same material Bill used. Mark replicated the nerf bars using oval tubing.
This is the fruit grown out of Mark's passion, dedication, detective work, and help from a few others in the field. Mark is thankful to those, who with their expertise helped this Dream Rod come true:
Ted Miller: Jowett collector, Tom Rad: Rad Paint, Bob Holland: cockpit material, Tom Rodwell / C&E Auto Upholstery: installed the upholstery, Brian Claire, John Schleicher and Shawn Yost for being able to help resurrect a plundered treasure to a high level of fit and finish.
 
Mark asked us at Thoen & Associates Advertising Photography, Inc. to use our vision to create these visual images and story of the resurrected Dream Rod. We trust our final results give you a good idea of all Mark did in bringing back this outstanding piece of automotive history.
New Photography, Post Production and Editorial copy: Greg Thoen / Jeff Natrop - Thoen

&

Associates.
Feel free to share this link, but no unauthorized image usage without written consent.
Email greg@thoenphoto.com for any other usage. See more visuals at ThoenPhoto.com   
©Thoen

 &

 Associates Advertising Photography, Inc.