Inspirada en las fiestas latinoamericanas tradicionales, busca reflejar la esencia de sus pueblos:
"El espíritu cálido y festivo que los identifica."
Estas celebraciones traídas por los españoles y portugueses luego de la conquista, poseen sus propias cualidades según la región geográfica donde se realizan. Forman parte del adn cultural y son tan importantes para los latinoamericanos que se declaran días feriados para llevarlos a cabo.
Traspolando características de estos festejos y traduciéndolos en recursos y herramientas de diseño,

nace la Silla Carnaval.
Esta silla latina refleja el caracter lúdico de las fiestas y lo plasma en el movimiento visual generado por la torsión de la cinta espacial que define su estructura. El balanceo resultante de su tipología fortalece el concepto "movimiento generado por el usuario."
La concreción de su materialidad es a través de la madera como alegoría a la naturaleza, y el color como expresión sensorial.
Además propone una experiencia de compra innovadora, ya que el usuario customiza la silla pudiendo elegir el tipo de madera , el color del marco, y el color de los eslásticos. Esta capacidad de personalización es resultado de una analogía con la generación de disfraces propios para los carnavales.
Inspired by traditional Latin American Carnivals, seeks to reflect the essence of its people:
"The warm and festive spirit that identifies them."


These celebrations brought by the Spanish and Portuguese after the conquest, have their own qualities according to the region where they are performed. They are part of the cultural DNA  and  they are so important to Latin Americans that even declare holidays to carry them out.
Taking the features of these festivities and translating them into design resources and tools, 
Carnaval Chair is born.


This Latin Chair reflects the ludic characteristics of these 

parties, and renders it in visual motion generated by the twisting of the surface that defines its structure. Its tipology results in a rocking chair,  which strengthens the concept "motion generated by the user."
The materialization of the chair is through the wood as an allegory to nature, and color as sensory expression.
It also proposes innovative shopping experience, since the user is able to customize his chair by choosing the type of wood and the colour of both frame and cords. 

This customization capability is the result of an analogy with the generation of their own costumes for the carnival parties.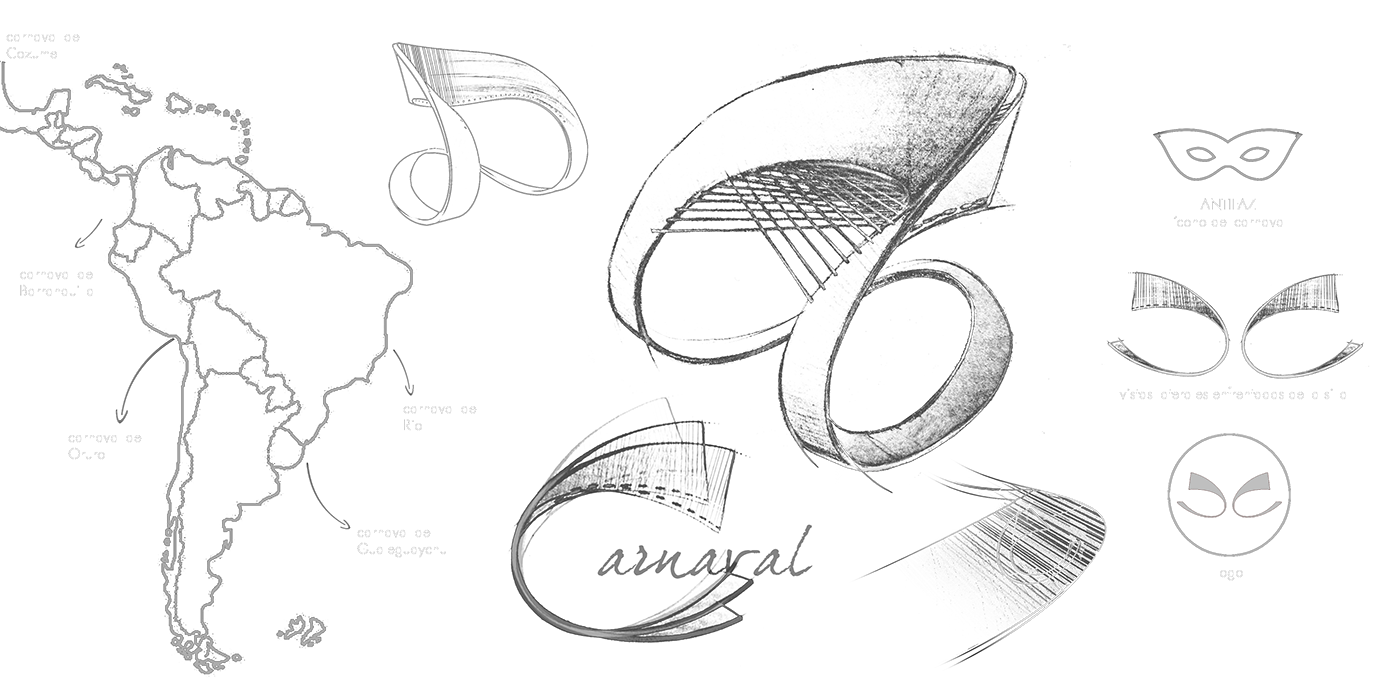 First Scale Model in 3d Printing
Contact Information
I
info@glidstudio.com  

I

 
jesica.vicente@gmail.com
Published On / Publicada En
http://www.catalogodiseno.com/2013/06/19/silla-carnavalguido-lanari-y-jesica-vicente-argentina/
http://www.demagazine.co.uk/magazine/de-magazine-volume-1-2013-preview-only
Architectural & Interior Design Inspiration
http://home2s.com/2013/07/carnaval-chair-by-guido-lanari/
http://creativeinspiration.am/video/carnaval-chair/
http://www.marvelbuilding.com/modern-chair-inspired-latin-american-carnivals-carnaval-chair.html
http://www.fromupnorth.com/product-industrial-design-inspiration-859/
http://furnishedhat.tumblr.com/post/53013632716/carnaval-chair-by-guido-lanari
WOODPLANET MAGAZINE
http://www.woodplanet.co.kr/
www.fortheloveofchairs.com
http://www.fortheloveofchairs.com/post/54143819624/wacky-thoughts-carnaval-chair-by-guido-lanari
http://homeli.co.uk/carnaval-chair-by-guido-lanari-jesica-vicente/
http://pindolla.com/carnaval-chair-by-guido-lanari-jesica-vicentefrom/
http://www.fortheloveofchairs.com/post/54143819624/wacky-thoughts-carnaval-chair-by-guido-lanari
http://designyoutrust.com/2014/12/21-seriously-cool-chair-designs-that-you-should-never-miss/
http://polychromatic-atmosphere.tumblr.com/post/77608794531/88floors-carnaval-chair-by-guido-lanari-and
http://www.homedecorhousedesign.com/decoration/festive-and-warm-design-of-carnaval-chair/
http://jjsandgreen.com/carnaval-chair/
http://www.designdubba.com/cool-chair-designs/
http://www.furnitureserved.com/gallery/Carnaval-Chair-/9120093