In December 2011, Cyclone
 THANE, hit the southeast coast of India destroying large amounts of Auroville's nature. 
Many trees fell in Auroville, which was one of the worst hit regions. A clean-up drive was setup by
Aurovillians and volunteers to clear all the trees. 'JANAKI, house of conscious living', a project by Upasana, decided to link the furniture line to this cyclone and the sustainable furniture "Eye of the Cyclone" was born.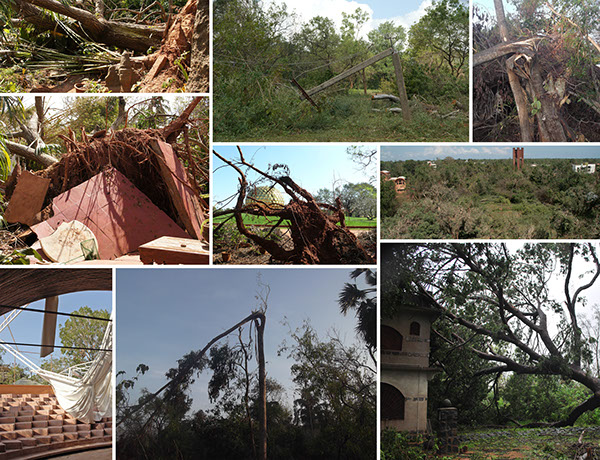 Selecting wood from huge piles and processing of the wood began soon after.
More than 2000 logs of different types of trees were selected like Khaya, Work tree, Eucalyptus, Neem, Teak, Vengai etc and then put into a registration database carefully stored for air-drying. The team has nearly finished its work, and more than 300 tons of the best timbers are laying for drying..
Initially, my area of focus was to use the smaller logs of wood. We looked at games or objects that can be made from wood such as chess, various shaped wood blocks for kids to build with, basic shapes like small-sized cars or train  engines, traditional games like ludo, gilli danda, pachisi, etc.
It was decided that
gilli danda
and
jenga
would be the two games because of its simplicity in form, it is easy to make, learn and play. Gilli Danda is a game that people in the southern region of India are familiar with.
JENGA

:The game uses 54 hardwood blocks stacked in groups 
of 3, oriented perpendicular to the previous layer. Each block is three times as long as its width and one fifth as thick as its length: 1.5 * 2.5 * 7.5cm.
It was decided that our version would be twice the size, thus making it an outdoor game for kids and also more interactive. Dimension of each block is : height - 30mm * width - 50mm * length - 150mm.
A small difference in thickness had to be given to each block, thus making sure of loose blocks available to pull out of the tower. Thus, 50% of the blocks are 29.50mm, and 25% each are 30mm and 30.05mm.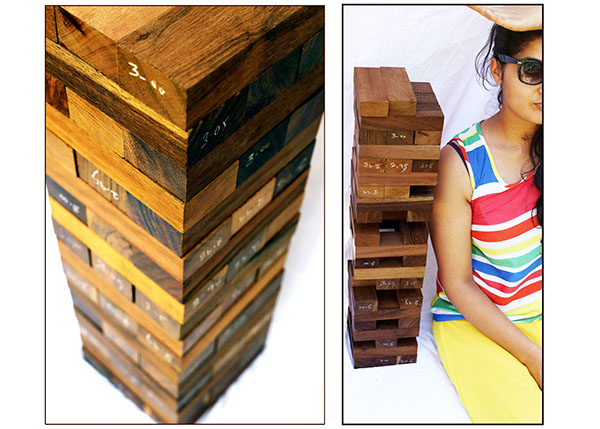 Gilli Danda

is an amateur sport played in the rural areas and small towns of Pakistan and India, specially in Tamil Nadu 
and Punjab. The game is played with two sticks : a large one called a danda, which is used to hit a smaller one, the gilli. This game is believed to be the origin of western games such as cricket, baseball and softball.
The larger logs of wood were used to create furniture.
- A BASIC Line, simple, elegant, multifunctional furniture for Auroville homes and for sale in India. Please check the other projects under this name to see furniture from the basic line.