APPROACHES TO THE GUIDE BOOK
My purpose was to create a guide or a manual to go along with a screen printing kit
and have a fun feel to it even though giving instructions can be a very serious business .
Here is the final outcome along with other approaches. Hope you like it .
GUIDE:Mr.Tarun Deep Girdher
The approach incorporated here was to let a screen print created by screen printing process be the narrator and explain the story or the people through it .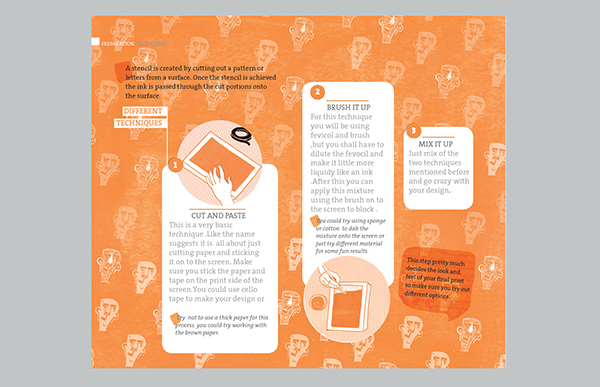 Below are the pages introducing the different chapters .
Prints created with different stencil techniques were used as fillers within the manual so as make people more aware of the choices and options one has .Below is a print which was create using different alphabet and numerical stickers.
THE ILLUSTRATED STYLE IN THE FINAL MANUAL
Here the prints created during the screen printing process was used to create a parallel narrative to make the manual more interesting and had a metaphorical approach to it . Like below are a few layouts which depict a bear s process of hunting and cooking a fish.
This approach was more to promote screen printing as a social activity and how one could have fun with family and friends.The initial sketches were created with marker and then taken to photoshop for treatment

.