. . . Its my honor I was asked to create two Plaquettes for two Royal moments . . .
- The first Royal Plaquette was placed in front of the presented tree [a birthday gift by the municipality of The Hague] in honor of the seventieth birthday of Her Majesty Queen Beatrix on Januari 2008.
- The second Royal Plaquette was placed on to the tradition to plant a tree as a result of the inauguration. Prins Willem-Alexander planted the tree himselve six days before he became the King of the Netherlands on the 30th of April 2013.
The second Royal Plaquette - April 2013
- Zagara
His Royal Highness Prince Willem-Alexander after the traditional planting of a tree [here a Kinglinden] on the occasion of the approaching Throne change, flanked by the Adjutant of Her Majesty the Queen Lieutenant-kononel mr. T.R. van de Krol, the Commissioner of the Queen of Zuid-Holland mr. J. Franssen and the Mayor of The Hague Mr. J. van Aartsen on April 23, 2013 in Wijkpark Transvaal.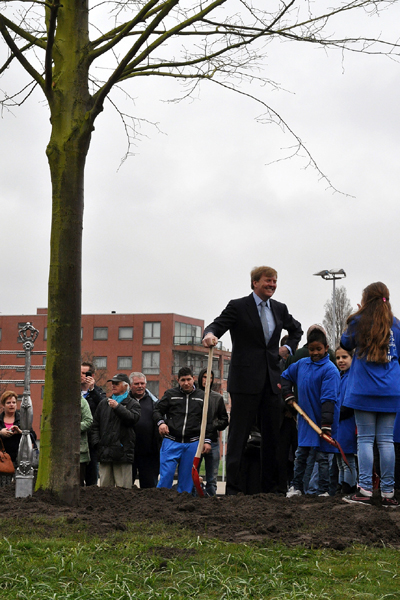 The first Royal Plaquette - Januari 2008
- Zagara
The tree offered to Queen Beatrix was planted at the back of the work Palace in the Palace Garden [open for public]. The story goes that Queen Wilhelmina [1880-1962] as a child draw the chestnut tree [with the very characteristic branch that has taken root in the ground] looking out the window.
MY APPRICIATIONS FOR WATCHING
. . .