***
The project
: Design a low-cost casket that will bring grieving families to chose a burial service rather than the increasingly popular incineration services.
Research into western passage rituals
led to a sensible, metaphorically and symbolically rich proposition that uses the burial and casket as a facilitator of the grieving process. We realized that, in many cases, incineration actually impairs the grieving the. This is explained in part by a lack of ceremonial, visual and emotional representation of the passing. Therefore some cultural codes were reiforced and others revised in our proposal.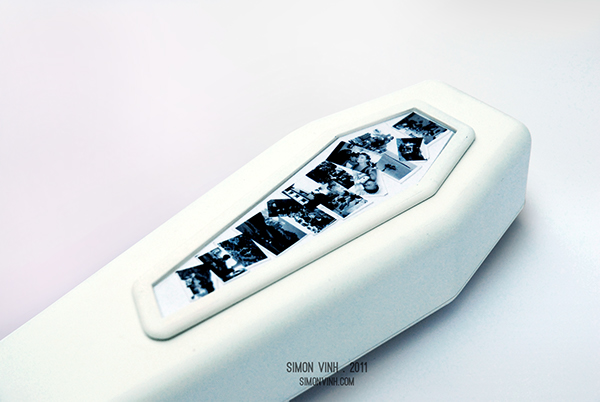 The customisable top-plates
are a place to display an engraved symbol significant to the family (religious or other). The superimposed wood cuts can be custom laminated with photographs or small keepsakes.
White lackered wood
allows the use of fiberboard (MDF) or other cost efficient wood boards. By preserving the feeling of wood and enhancing it with a lacker finish, we can significantly reduce cost of materials and manufacturing. A white casket is unconventional but breaks from the often macabre style of caskets.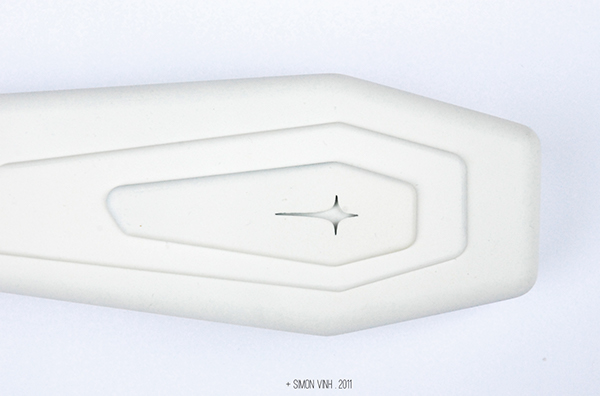 The proportions
of the lid and base were inverted to break the perception of an inelegant box-like form. Instead, the base is used as a small altar in the event of an open-casket ceremony. A besel in the base gives the impression of floating and lightness. 
Later in the ceremony

, the lid is placed on top, borowing semantically from how a glass bell would be used to preserve a flower.
It is important to the families

that the decesed look comfortable and peacefull in their final resting place. To honour this, the inside of the casket can be lined with a range of fabricsabd textures ranging from canvas to velvet and even a flower-bed.