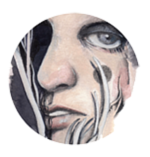 UNTITLED (FLAWLESS)
6 pieces of drawing, water coloring, & paper sculpture | 2013.
E
very man has covered himself with layers and layers of imposture.
 
They conceal their true personalities from this society of illusion. They have hidden
their frailness and their differentness from the other and wishing to become a part of the community.
They are continually transforming themselves to save their lives from criticisms and social outcast.
So on and so on,
until they couldn't even recognize who they actually are and who are they used to be.

My 'Untitled (Flawless)' exhibited as a part of 'Metamorphose' Art Exhibition 
held by Dare Art Collective at Speed Grandma Art Gallery in Bangkok, Thailand.

More information about DARE and SPEEDY GRANDMA
please feel free to visit their Facebook page.