I had a lot of great pictures from a Europe vacation, so I created a travel magazine. 
I created the logo, took the photos, chose the type and designed the layouts.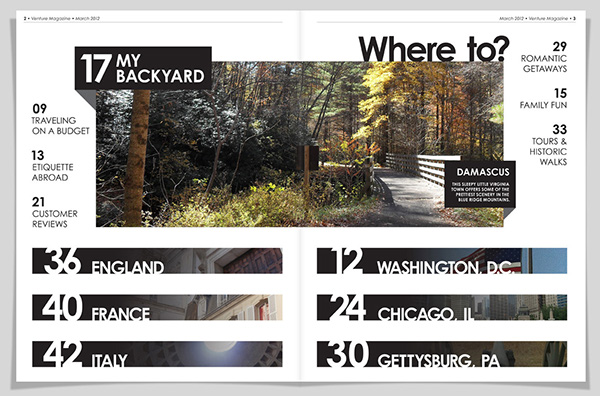 Table of contents spread. The TOC was to feature 12 articles, and luckily I had more travel photos. I wanted to feature photos of each destination on the spread without making things too busy, so I used thumbnail strips and lots of white space. 
Opening spread of Italy article. Each article spread was to have a title with a unique typographic treatment. Here I used a classy script to complement the plain, clean sans-serif typeface used throughout the publication.
Remainder of Italy article. I balanced out the large feature photo on the right with a series of smaller photos on the left. This also resulted in an interesting contrast between ruins (and the unstable leaning tower) and the impeccably-kept St. Peter's Basilica.
England article. Since the U.K. is known for gloomy weather, I made sure to feature photos of pleasant days to attract the eye (and the visitors!). I followed the angle of the monument when setting the headline, and used it to lead the reader's eye directly into the beginning of the article.
Opening spread of France article. France is known for its Art Nouveau flourishes, and I wanted that to translate into the design. I used a fanciful typeface in the headline and featured photos with movement—again, the eye is directed right into the article and across the page to the next spread.
Remainder of France article. I balanced out the large scale of the right-hand photo by incorporating a feature photo on the left-hand page. The color of the windmill ties in the color from the previous spread and adds life to the page.
Back cover. I created a "submit your photo" piece where readers would send in their best shots to try to get them featured. I like to incorporate interaction as much as possible, and I feel this would generate interest were this a real publication.