Wrigley's Doublemint is one of the largest selling gum brands around the globe with its availability in over 140 countries. The Filipino market however indicated a decline in purchase rate of the brand and has decreasing market share because of the rise of other gum brands and products. This study aims to recover its market position as top product choice to aid a quick and temporary breath fix that is designed for young adults and young professionals through a non-traditional advertising campaign that will make them realize that the product is effective and dependable in such cases. The study also intends to influence the Filipino market to engage them in the habit of "eat, drink and chew".
Being part of the Wrigley's company, Doublemint easily carved its own niche in the industry of confections. This study will widen the potential of the product from a confectionary product to being marketed as breath freshener. The target market was remained untapped because of the traditional approach of the brand in its promotion and advertising strategy.
The study ventures on making the target market live with the brand through interactive means of advertising by involving them in an unforgettable brand experience.
To make interaction with the market, print ads will have folding features. There will be a play on the visuals and copy to execute the idea of an individual getting close through Doublemint.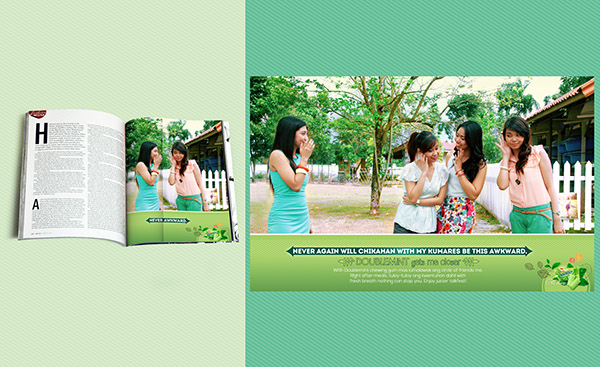 HAPPY YOU NEAR! is an event for everyone. To extend the holiday season, Doublemint will launch a mini event to celebrate the first weekend of 2014 with the target market's family or barkada. This event will be the climax and culmination of the campaign. It will be in partnership with Mercato Centrale at Bonifacio Global City. This way the target market will be exposed to variety of food choices as to relating food or eating with Doublemint.
Doublemint will also be conducting activities that will be beneficial to the target market.
There will be a job fair in the morning where several companies will be invited. This will open new opportunities for a fresh start in our target market's career. This is also in association on one of the campaign's print ad (interview print ad).
In the afternoon, Speed dating will take place. Event goers will have their "50 first dates" of the year. This is part of instilling confidence in Doublemint's brand image as they will be meeting random people and will have close encounters with them.
The event will end with the target market literally getting close with each other as sky lanterns will simultaneously be lit up in the sky.
The event is expected to accommodate thousands of people since it's a whole day event. This means maximum brand exposure to the target market and other possible consumer.