to address the brief for a house that is both a private home / retreat and a public space for work and formal functions, the proposal divides the brief into 2 separate dwellings, 
 to create separation between home
and work, and to separate private and public. The formal is achieved by the separate building, divided naturally by the existing sandstone rock cliff formation on site. Separation between private and public is achieved on entry; though sharing a common driveway entry, private residence is accessed via a retractable bridge extending over the flower bed surrounding the drop off area. This can be withdraw when a clear distinction between private and public need to be defined, such as when a formal function is held.
Duality is portrayed in the building form, with two similar but contrasting building form; essentially a
single storey development, on top of a hill and supported by columns that touches the ground; with
the 'public house' the building edge tapers out from the floors, creating a feeling of expansion, this
contrast with the 'private house' that tapers from the roof line, creating a pitch roof edge profile and
deep veranda commonly used in Australian vernacular architecture.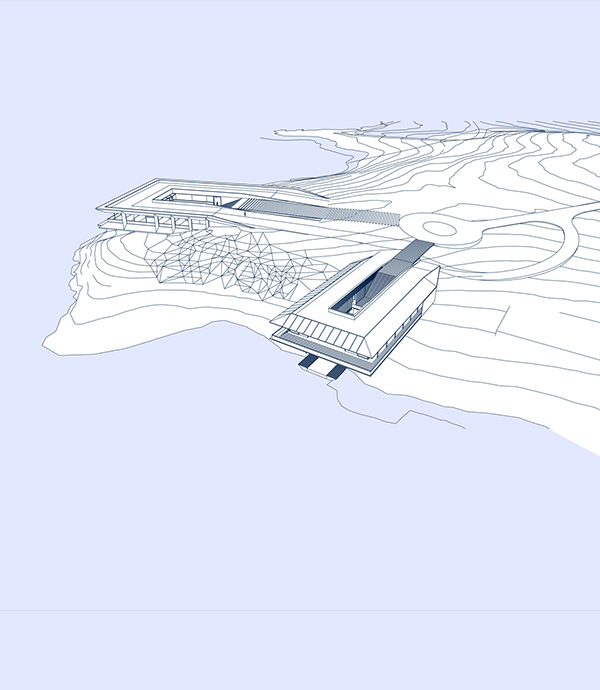 The two houses sits on the northern tip of the site around the highest point, taking advantage of the
panorama view of the lake as well as maximising solar access and ventilation. It is positioned into the
hills to integrate seamlessly with the landscape, with the extension of the ground to cover the roof
of both houses. The landscape then continues down below, in the 'public house' via the landscape
steps and meandering trees, leading the guests down to the outdoor amphitheatre in the centre of
the courtyard. In the private residence the landscape link is seen via a continuous water that
connects the 3 level of the house, on ground level with feature pond at entry, down to basement via
vertical waterfall, and finally down to lowest level with the infinity pool meeting the water of the
lake.