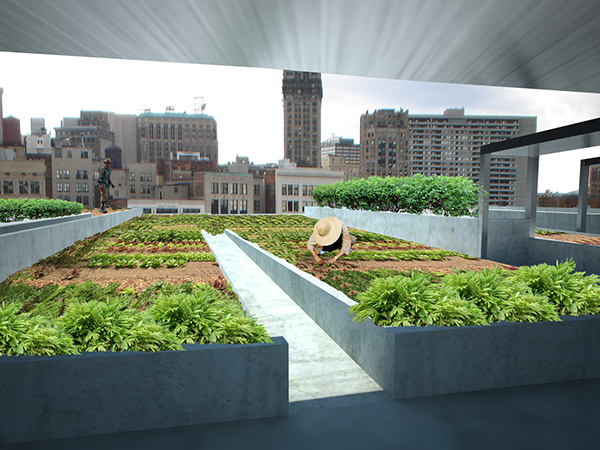 Detroit Center for Urban Agriculture and Seed Bank
Presenting the roof-top farm to downtown Detroit
This project is meant to be aspirational about the future of downtown Detroit. Urban Agriculture is already common in the Detroit area so the question had to be asked about what more the Urban Agriculture could accomplish, what Urban Agriculture means at the very center of the city and how this Center in particular would be useful in pushing Urban Agriculture into the future.
The rooftop is raised to meet the view of those who would pass by on the mass transit "people mover" and is sectioned to allow for multiple crop types to be planted as each section of the roof would contain a different soil makeup and depth. Because the roof is not large enough to produce enough goods to profit from their sale, the facility can be used to harvest varieties of seeds, but more likely is to serve as a catalyst for re-imagining rooftop use in a city that is in the midst of a giant overhaul after reaching dismal levels of disuse in the recent past.
Below the roof is a system of thick, long, walls meant to appear structural and exaggerate the weight of the farming plots above. Because the thickness of the walls will not need to be solid in order to hold up the roof, the interior of the walls will house the other program, the seed bank. As the roof is extensive, the seed bank below will be able to easily maintain the required reduced sunlight and temperature levels necessary to preserve the seed until they are distributed to farmers around the city.
Other programs in the building will house an lab for seed preservation, and soil toxicity testing for prospective urban gardeners in the city, as well as an educational facility and "bank" for distributing seeds to the public.