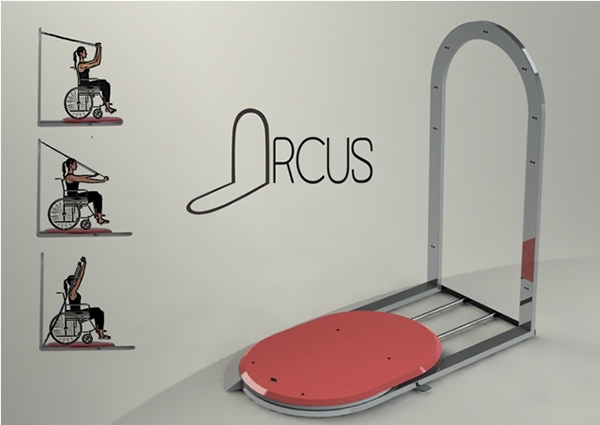 Com uma estética agradável, Arcus remete a conceitos de amigabilidade, praticidade, simplicidade, que são extremamente considerados pelo público alvo em questão.
        Dessa forma, Arcus aparece como um produto inovador e único no segmento!


With a pleasing aesthetic, the concepts of Arcus refers to friendliness, practicality, simplicity, which are highly regarded by the target in question.
         Thus, Arcus appears as an innovative and unique product in the segment!
Arcus também pode receber a aplicação de diversas estampas, tornando possível a personalização do produto de acordo com o estilo do usuário.


Arcus can also receive the application of various prints, making it possible to customize the product according to user's style.
Arcus trabalha com as molas do Pilates, apresentando ao longo de sua estrutura diversos pontos de fixação das molas, possibilitando diferentes exercícios que trabalham diversos grupos musculares.


Arcus works with the springs of Pilates, featuring along the structure several points of attachment of the springs, allowing different exercises that works different muscle groups.
A base obilonga que apresenta um acabamento em resina acrílica garante uma textura emborrachada permitindo uma maior durabilidade e aderência a cadeira de rodas.


The base that features an acrylic resin finish that ensures a rubbery texture, allowing a greater durability and adherence to a wheelchair.
Foi desenvolvido um modelo em escala 1:5 do Arcus, onde detalhes importantes e relevantes são representados, como o travamento das bases, tanto obilonga, quanto circular. A textura da superfície da base obilonga também é representada no mesmo. 



It was developed a 1:5 scale model of Arcus, where important and relevant details are represented, like the lock of the bases. The surface texture of the base is also represented in the model.
Arcus pode ser usado em ambientes residenciais, sedes de associações ou clínicas, juntamente com o acompanhamento de um profissional.



Arcus can be used in residential, and clinics along with the accompaniment of a professional.