BUSHIDO!

is an exhibition at TATE Modern, London _ focusing on the visual portrayal of 'The Way of The Warrior' ranging from poetry to movies, paying specific focus to Japan and the Samurai who practiced Bushido _ the code Samurai lived by literally translating to

'The Way of The Warrior'.
The

branding and promotion

of BUSHIDO! aims to create a

contemporary and progressive

visual style while still referencing classical Japanese design in terms of format and in terms of layout. and tone of voice. The exhibition is targeted towards a younger demographic, in particular the

young creative

who perhaps feel alienated and withdrawn from high society and the high art culture of the art gallery _ creating

new perceptions

of the TATE gallery.
BUSHIDO! incorporates the

concept of 7

 throughout the product range - the number of Bushido virtues a widely represented number in Zen Buddhism and Shintoism - the faith and belief of historical Japan.
BUSHIDO! creates a loose, experimental and almost kitsch visual style to appeal to todays younger demographic engrossed in zine and an independent publishing culture. Creating a contemporary and unlikely visual style for something as traditional and romanticised as the Samurai.
All book and user collateral is screenprinted as a reference to traditional methods of Japanese woodblockprint but with a modern take.
7 Virtues

of Bushido _

7 books

_

7 Topics

covered in exhibition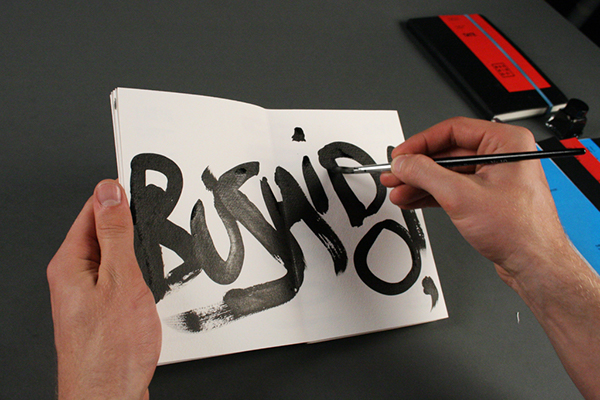 Outdoor promotion incorporates 7 significantly different but stylistically similar posters focusing on the 7 different virtues. Promotion is 

viral

 and distributed in a more urban manner and incorporating paste-ups and repetitions as a reference to the street-art culture for another unusual connection to create a 

new image

for TATE and a traditional _ romanticised topic such as Martial Arts and the Samurai.