The problem: at the moment in Russia almost all kinds of milk available in stores have extended storage period. As a result its taste is not natural due the great amount of preservatives used. Thus in consumers' opinion there is no true milk.

The solution: to create a new brand of milk, bright and emotional, associating with childhood. We show that the world in childhood is enormous, bright and fairy. And everything in it is simple and true. Reminding people that milk is a drink from childhood we recreate the image of a sincere, promising and true product...

Client: Minskoblproduct
Credits: Thanks to Voshod agency (http://ravoshod.ru/) for the help with post-production of the video! NB! This is not a commercial, it's just a video-moodboard, illustrating the brand positioning.
When creating the name and package design for "Visoko-visoko" ("Sky high")
milk we wanted people to look at the world through the eyes of a child .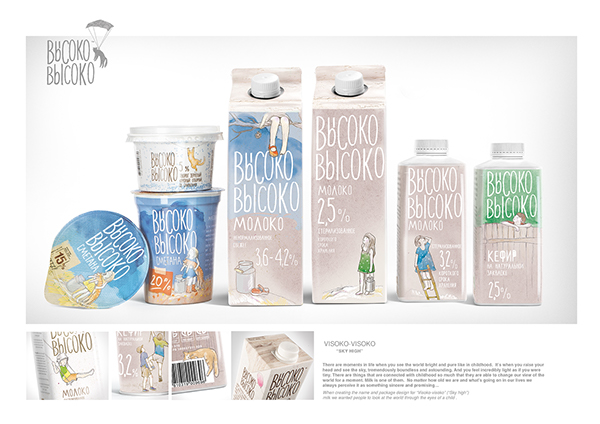 This video is not a proper commercial. It is a sort of a visual scrapbook that helps to capture the mood of the brand.
 There are moments in life when you see the world bright and pure like in childhood.  It's when you raise your head and see the sky, tremendously boundless and astounding. And you feel incredibly light as if you were tiny. There are things that are connected with childhood so much that they are able to change our view of the world for a moment. Milk is one of them.  No matter how old we are and what's going on in our lives we always perceive it as something sincere and promising…