The Plakat installation is the author's first exhibition in public space. Kofila (Bohdan Heblík, born 1978), the author of commercials and commissioned work, is not used to this kind of presentation, therefore it is a new and interesting challenge for him.
Kofila's work is the exact opposite to what a gallery visitor would expect, discovering the beauty of everyday objects, with no ambition for becoming a "piece of art". Being playful to the extreme, Kofila borrows at random from various videogames and comics as well as the Czech tradition of graphic artists (his pseudonym refers to Zdeněk Rykr, Czech visual artist of many styles and artistic faces). The use of random sources and influences and discontinuous study typical for the generation of self-made designers who appeared in the early 1990s and whose work influences the design of our everyday lives.
The whole Plakat exhibition is driven by a slightly nostalgic memory of common situations from the author's life. Eight posters created especially for this occasion bring a highly subjective look back in time. We learn very few facts from Kofila's life in Eastern Bohemia, a series of minor jokes, allusions and allegories is comprehensible only to those who participated in the events - and even they have to watch very carefully. Subjectivity is heightened to become the ultimate esthetic quality, awaking curiosity and inviting to participate in the game. It makes the spectator feel that there is nothing more important that everyday events and situations and their thorough perception.
It is interesting and bizarre in a way - one has to go out into the city to appear in one's own cosy appartment.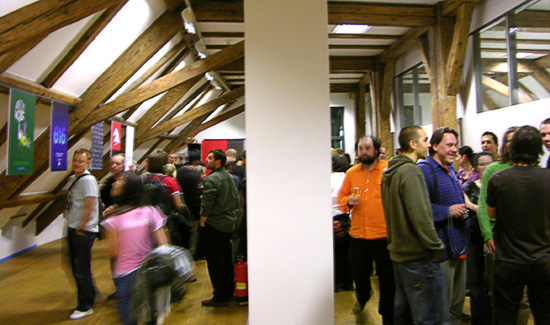 My life in eight movie posters
60x80 cm