Web Client, 
Versions 8.0 & 8.5
- A web conferencing solution.
- Used for Online meetings, eLearnings and webinars. 
- Used by leading corporations, training instituitions and professionals.
- People working remotely can meet, share and discuss their stuff as they do in a room.
- All you need is a laptop with microphone, a webcam and an URL.
- Your participants can join using smartphone/tablet on the go.
- And an Adobe® Connect™ subscription.
All this in a super easy, interactive web conferencing solution which needs no software setup/installation - courtesy Adobe® Flash™.
1.  The Host sends an invite (a typical URL) for people to join the meeting
2. The meeting room is joined by the Host and open for Participants to join. A meeting room is designed to be extremely engaging - by pods and layout based framework - to share and discuss content in a meeting seamlessly.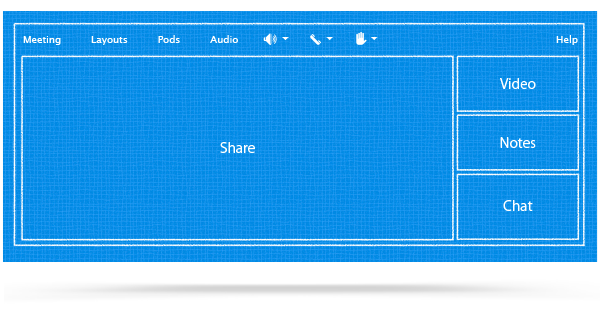 3. Participants join the meeting using Computers/Phones/Tablets
Earlier versions of connect had an engaging design, powered by "pods and layouts" based framework that enabled sharing and discussion of content in a meeting seamlessly. The DNA of the app was always top notch engagement. The most obvious thing to do was to leverage the existing framework and add on top, an immmersive, ultra-quick, visually appealing experience, that is in line with the usability/brand image of all Adobe tools.
Components & Visual Design

Jamie Myrold, Jon Lorenz, Vignesh Ramesh - XD, Adobe
Isabelle Landthaler - Icons