Aural Synapse is an investigative study of using Multisensory design 
to facilitate the Deaf in the appreciation of music as well to look into 
how it could enhance the musical experience of hearing individuals.
---
This project was undertaken as part of my BA(Hons) program at Lasalle
College of the Arts in Singapore.
---
It involves the combination of music visualizations (Sight) as well as a
haptic device (Touch) that allows users to feel the music through
the vibrations created from the sound waves. 
---
---
I received important feedback from the Deaf community that
the previous visualizations were not effective because they
were unable to discern the different sounds while looking at
the visuals, and stated that breaking down the song into its
composing elements could potentially be more effective.
---
MUSIC VISUALIZATION EXPERIMENTS
                 I first conducted mini experiments to test if
                 my idea was feasible. I tried to picture how
                 the sounds would look like and thus be able
                 to accurately represent the different sounds
                 through the use of simple graphical elements.
MUSIC VISUALIZATIONS
                 Songs used:
Gui Boratto
- Flying Practice
                 Music visualizations created using Adobe Flash.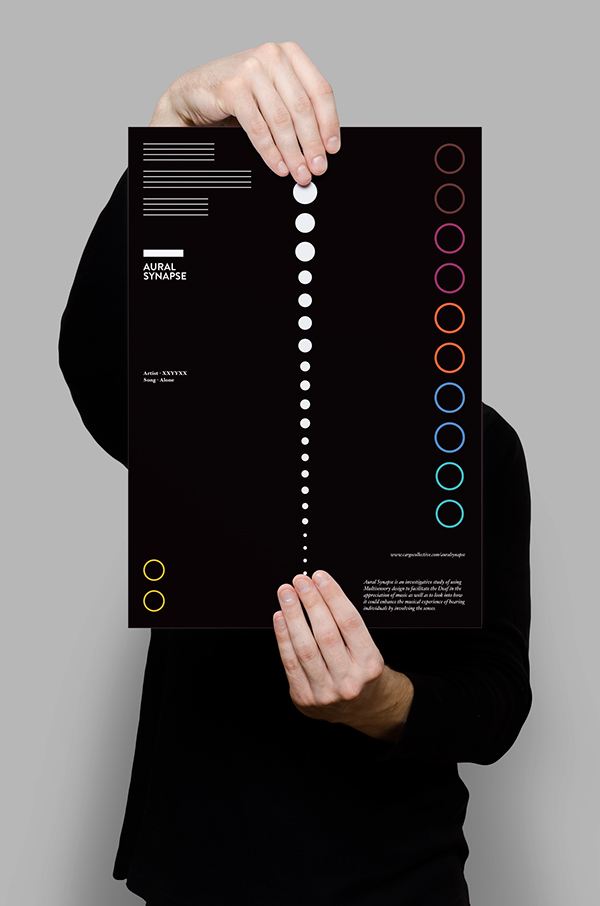 Promotional collaterals to increase
the awareness of the project.