Home brewing can be overwhelming for the unexperienced beer enthusiast. The Home brewing station takes a process that is normally perceived as complicated and  and simplifies it ,turning it into a more fun and approachable experience. It is an innovative approach to home brewing that focuses on the production of  small one gallon batches. This translates into a series of advantages for the home-brewer. It needs less space, it allows to use already available kitchen utensils, makes the actual brewing process faster and the smaller volumes are easier to handle. All of this allows the home brewer to brew more often, gain experience in a shorter amount of time and the possibility of enjoying a wider range of beer styles.
The system focuses on the practicality of the process, housing just the necessary elements needed to brew beer. It is designed to be flexible and can be adapted to the user's specific needs. Ultimately, it serves as a tool to motivate people to engage into simple everyday life activities that can improve interaction with others. Home brewing is also a sustainable approach to the consumption of this beverage since it can be produced locally with less waste. It also allows the user to learn and better appreciate the beverage since it can be enjoyed fresh and made out of quality ingredients.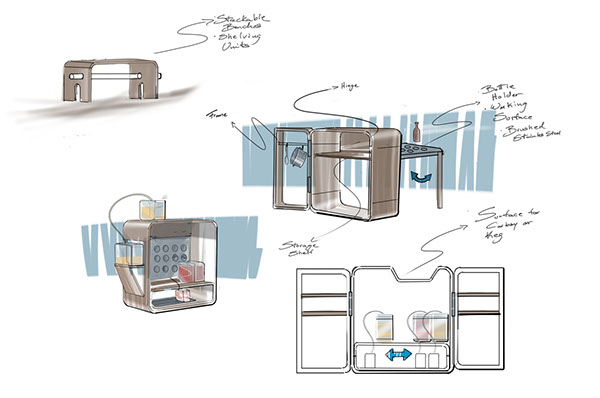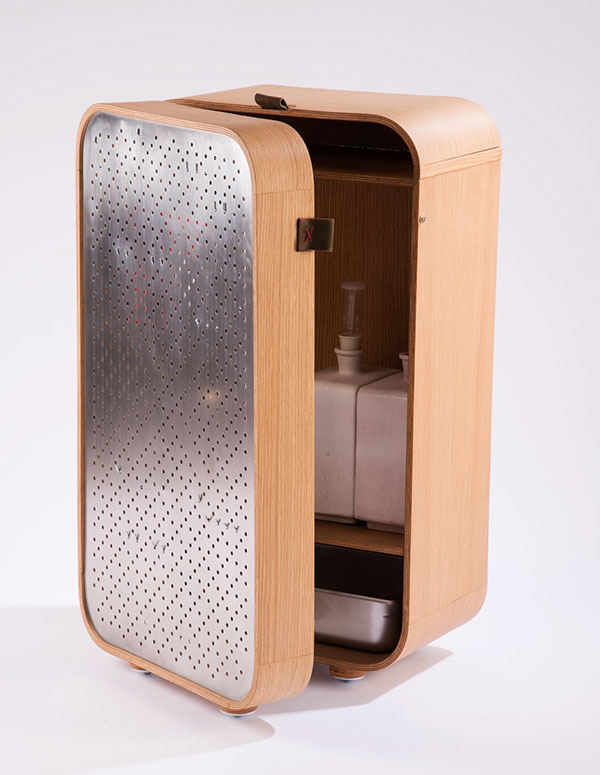 The brewing station celebrates the millenary art of beer brewing, as it acts as a display where the process and the tools can be appreciated and better understood. It incorporates traditional materials like wood,stainless steel, glass, ceramic and leather into contemporary simple forms. It is meant to be displayed as a piece of furniture but it is also a real, versatile working station that can be rolled to the kitchen or next to a stove where the beer is brewed.
The cabinet is made out of 1/2 inch oak plywood which was custom laid up for the project and consists of 9 layers of veneer.
The Stainless steel front panel allows the user to custom position the brewing tools and provides a solution to some of the problems home brewers have to overcome, for example drying the bottles after sanitation. It also allows fresh air into the cabinet's interior which contains the fermenting brew.
For more information visit: http://gallegos-design.com/2013/05/13/home-brewing-station/