After the earthquake the engineers make the damage and safety assessment and plan the short term countermeasures. The reading process takes a lot of time and the forms are really complicated to understand for the rescuers. 
–
After an earthquake reading the damage assessment is long and complex. The project is about an information system, quickly readable and adaptable, useful for rescuers to identify dangerous and damaged spots in the red zone.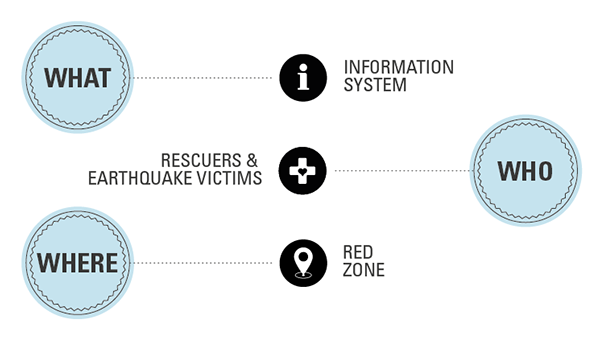 –
The project steps in after 1 to 3 days after the earthquake, when the engineers make the damage assessment.
There are 3 levels of information: 
- Colors reveal the danger level
- Pictograms shows the type of damage
- Texts could be pre-printed or hand written and give more details.
–
We create an icon and pictogram system with a specific stencil font.

–
The supports are designed to be easily producible even with materials available to the workers and rescuers.
–
The project could be declined on different after-earthquake situations: hospitals, schools, dining halls and dormitories. 
Authors: Chiara Quaggia, Matteo Banchelli, Alessia Cappa, Gaia Barison, Marta Leoni