Advertisements
A sampling of some of the ads I've done.

Ad Campaign for The Acorn restaurant.

This campaign was targeted for the weekday/after work crowd with the goal of increasing their weekday traffic. The ads were designed for the free weekly Rage publication, which targeted a younger demographic than the regular newspaper. The feel was young, hip, and fun.

Magazine Ad for All Star Comedy Jam.

This was an industry magazine ad. I tried to create a vibrant and exciting feel to match the flashy energy depicted in the title itself, along with going for the stage show look.

Mailer Ad for LP Building Products - front.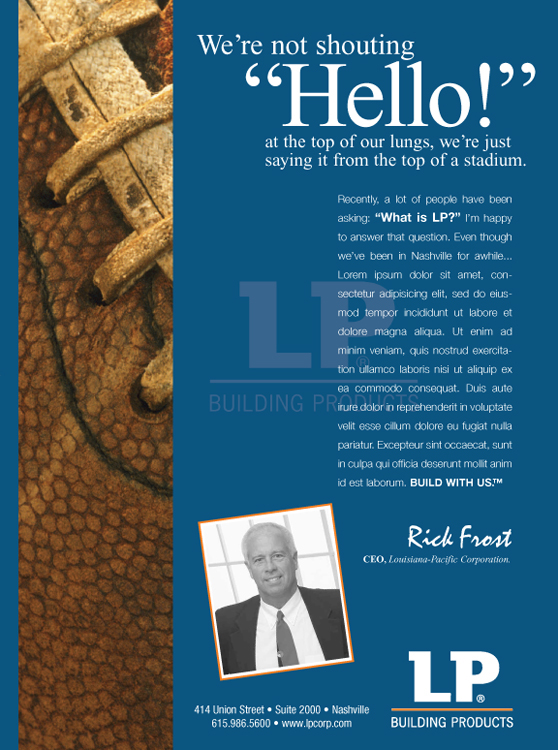 I was going for a nice eye-catcher with the closeup on the football, and hopefully built on that through the rest of the ad. At the time LP Building Products was virtually unknown in the greater Nashville area, so the challenge was to introduce them and point out that they were buying the naming rights to the Tennessee Titans' stadium.

LP Building Products Mailer Ad - back.

Newspaper Creative Ad Unit for the Nashville Predators.

One of the "Creative Ad Units" for the newspaper. These are designed to demand the reader's attention by jutting in to areas of the text on the page. Using the various Predators players and team colors, I achieved a nice feeling of action and excitement with this one.

Newspaper Ad for Renaissance Tile and Bath.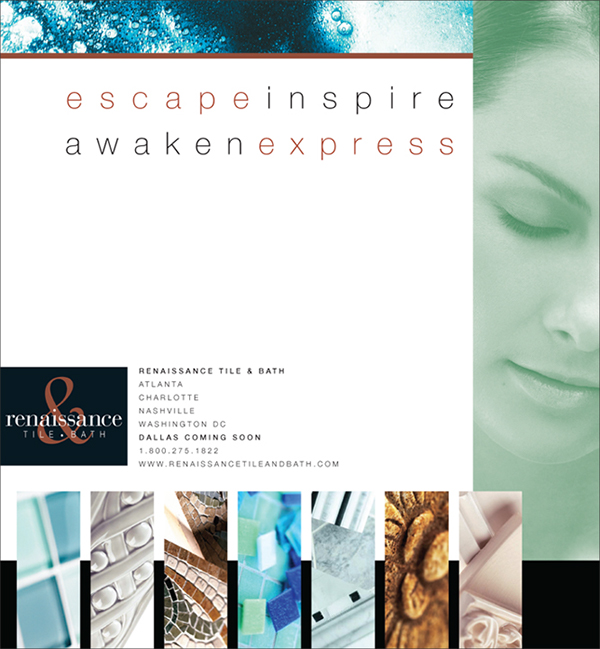 I tried to capture the feeling of elegance and relaxation through the use of white space and varied textures of the company's building materials. I built on information found on their website to achieve a uniform look for their ad.

Newspaper Ad for Valerie Boutique.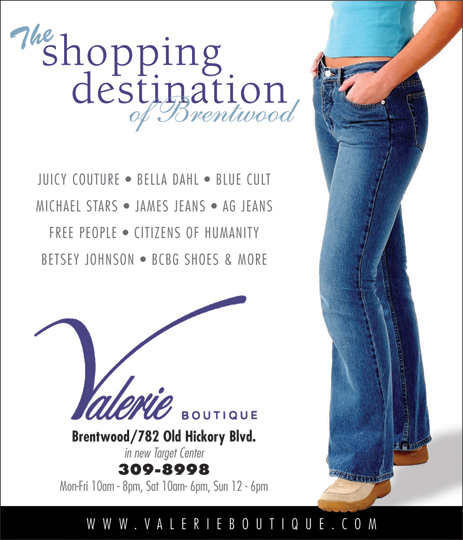 Newspaper ad targeted for boutique shoppers in Williamson County, Tennessee. I went for a clean and simple look on this one.

Newspaper ad for The Cowboy Store.

This one pretty much built itself once I found the right stock art. This was designed for a special section that celebrated the re-opening of the Williamson County Fair.

Creative Ad Unit for The Melting Pot restaurant.

This is one of the "Creative Ad Units" that I've done. These ads were designed to not have borders and "invade" the text of an article, thereby forcing the reader to pay attention to it.

Menu Mailer for Wing Stop restaurants - front.
Wing Stop restaurants have a retro aviation vibe and decor at work, so it was an obvious choice to build on when I designed this introductory mailer menu.
Menu mailer design for Wing Stop restaurants - back.