Chance for Renewal
The final animation project for the Diploma of 3D Animation at Lifeway College. Not complete to my standards, but it displays some of my areas of skill.
Created using Adobe Photoshop CS4 and Autodesk Mudbox 2010 for textures and photo manipulation, Autodesk Maya 2010 for 3D work, and Adobe After Effects CS4 for Compositing. (
Mudbox was only used to a basic level)
Everything in it was created in 2010 by Nathan Chisholm, except the sound track, which was composed to request by Jacob Redshaw.
Parts most enjoyed were Rigging, Lighting, Animation and the making of various small MEL script buttons.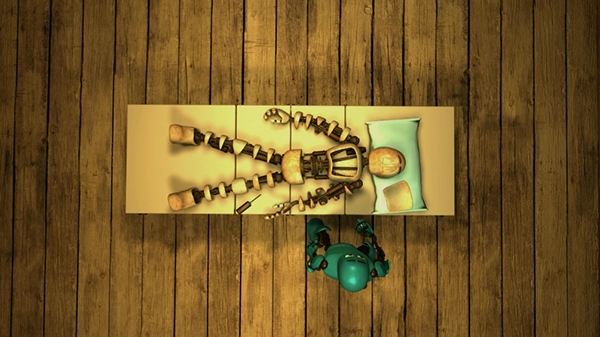 Note the changes in the mood - from sad and hopeless to hopeful and renewed.

The rigs initially had FK arms, but one scene required IK arms so I had to modify the rigs for that scene (shaking hands, holding the battery and the torso panel.) (I hadn't time left to make the rig with an FK / IK switch.)

Also the elbow is modelled like the knee in the first screenshot, and the shoulder and wrist are two and three joints respectively. The wire deformer on the neck spring was the most challenging though. A few simple expressions control the rotating gears and clock mechanism. All animated objects were linked to control curves for ease of animation.